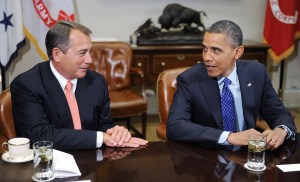 Earlier today, President Barack Obama gathered with the majority and minority leaders of both houses of Congress to move forward in avoiding automatic spending cuts and tax hikes set to occur at the end of the year. Although Democrats and Republicans have, at times, seemed to have irreconcilable differences in the process, the various elected officials walked out of the Roosevelt Room with an optimistic outlook that a compromise would be reached.
"I can only echo the observations of the other leaders that it was a constructive meeting. We all understand where we are….We are prepared to put revenue on the table provided we fix the real problem," Senate Minority Leader Mitch McConnell told reporters, according to a White House pool report. "Most of my members, I think without exception, believe that we're in the dilemma we're in not because we taxed too little but because we spent too much."
Mr. McConnell's comments are notable because Republicans are currently in a stalemate with Mr. Obama on whether to fully extend the Bush-era tax cuts or to let them expire for the top 2% of earners. If neither plan were to come into effect, rates would increase on the entire base of taxpayers.
Congress' other GOP leader, Speaker John Boehner, concurred with Mr. McConnell. "While we're going to continue to have revenue on the table it's going to be incumbent on my colleagues to show the American people that we're serious about cutting spending and solving our fiscal dilemma," he said. "I believe we can do this and avert the fiscal cliff that is right in front of us today."
The revenue issue is part of a larger effort to stop "sequestration," massive automatic spending cuts to education, defense and more if a specific deficit-cutting plan is not arrived at, an event many feel would be economically catastrophic. But, echoing their partisan counterparts, Majority Leader Harry Reid and Minority Leader Nancy Pelosi sounded positive about the negotiation's direction.
"This is the first time we've deal with these issues and feel we understand what the problem is," Mr. Reid said. "I felt very good about what we were able to talk about in there. We have the cornerstones of being able to work something out."
Mr. Reid said his chamber would be working on the issue through the Thanksgiving recess next week.