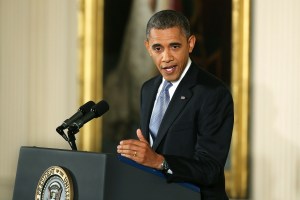 This afternoon, President Barack Obama held his first solo press conference with the White House press corps since June 8. One question that came up during the lengthy grilling was whether President Obama has met with his erstwhile election rival, Mitt Romney, or made plans to do so in the future.
"We haven't scheduled something yet," the president said. "I think everybody forgets that the election was only a week ago. I know I've forgotten. I forgot on Wednesday."
The president went on to say he believes "everybody needs to catch their breath" after the marathon campaign and the he hoped to meet with Mr. Romney before the end of the year. As far as what they might discuss, President Obama said he believes Mr. Romney has some expertise that makes him a worthy person to consult. He went on to provide a bit of praise for Mr. Romney that many observers on Twitter quickly characterized as rather faint.
"To give you one example, I do think he did a terrific job running the Olympics."
Along with Mr. Romney's past experience, President Obama also said he'd be eager to talk with Mr. Romney about some of the ideas he put forth during the campaign that the president characterized as being "just smart ideas" rather than "partisan ideas." Specifically, President Obama cited Mr. Romney's plans for making the "federal government more customer friendly" and "consolidating" the government.