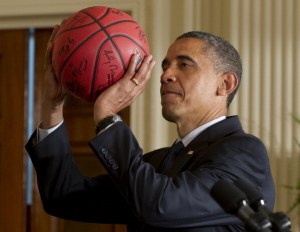 President Barack Obama has a pre-election ritual where he plays a friendly game of basketball as the votes are cast. Today was no exception and the president hit the court this afternoon as voters across the country cast their ballots in what he has referred to as "my last election."
According to tweets from Alexi Giannoulias, a longtime friend of Mr. Obama's and a former Illinois State Treasurer, Mr. Giannoulias and Chicago Bulls great Scottie Pippen joined the president's team to face off against former Obama body man Reggie Love and Secretary of Education Arne Duncan.
Mike Ramos, a childhood friend of Mr. Obama's from Hawaii, and Martin Nesbitt, who befriended Mr. Obama in Chicago, were reportedly in on the action too, as was Bulls veteran Randy Brown, Sam Kass, who serves as Assistant Chef and Senior Policy Advisor for Healthy Food Initiatives at the White House, and Michelle Obama's brother Craig Robinson. Mr. Giannoulias tweeted that  Bulls alum Randy Brown was also involved. It wasn't immediately clear which team these players were on.
Nevertheless, based on a recent tweet from Mr. Giannoulias, Mr. Obama's team apparently came out on top.
"What a day! 'Coach Obama' coached us to victory! Great win, way to play, Pip!" Mr. Giannoulias wrote.
Now we'll have to see how well the president does off the court.
Update (5:17 p.m.): More details from the pool: 
The two five-player teams played four 12-minute quarters. Referees were brought in to call fouls. Each team had substitutes, though Giannoulias did not know exactly how many. The Potus team won by "like 20," with a score of "like 102, 105, 108 or so to 80-something."
"It was a lot of fun," Giannoulias said. "We won. I scored more points than Scottie Pippen, which was my dream come true."
Giannoulias said Potus "played very well" but did not say how many points he scored. Giannoulias scored 32, he said, and Pippen 21.
Giannoulias declined to identify the game's other participants.