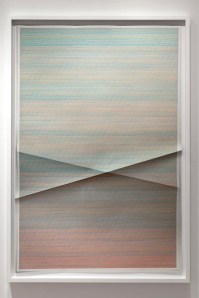 Lower East Side mainstay On Stellar Rays announced today that it will represent artist John Houck, and present a one-person show with him next year. Mr. Houck's perhaps best known for intricate—and really very beautiful—abstract photographs that he makes by repeatedly rephotographing contact sheets. He prints these with grids of color generated by a software program of his own design, and then creases them in various ways.
The gallery had this to say in a statement:
"John Houck works with photographic materials and engages in architectural interventions, in both cases focusing on the relationship between embodied perception and depiction. Houck's background in computer programming, architecture and photography equip him with extensive knowledge of diverse codes used to generate images. Houck employs such codes – intentionally disrupting their more advanced functions through simple repetition and recursive processes – to create new interstitial sites of resistance. The power of his work lies in a practical and real understanding of the digital systems that order our contemporary experience, and furthermore, the ability to reclaim pervasive systems for intentions at once poetic and defiant."
New Yorkers may recall Mr. Houck's work from such recent shows as "Photography Is," which inaugurated Higher Pictures' current space at 980 Madison earlier this year, "The Crystal Chain" at Invisible Exports, back in May, and 2011's "Leads to Another" at Kate Werble Gallery.
Mr. Houck is a graduate of the Skowhegan School of Painting and Sculpture, in Skowhegan, Maine, and the Whitney Independent Study Program. His last solo show in New York was at Kansas Gallery in June.
Those planning to visit Miami Basel, take note: On Stellar Rays will have Mr. Houck's work on offer at their NADA booth.