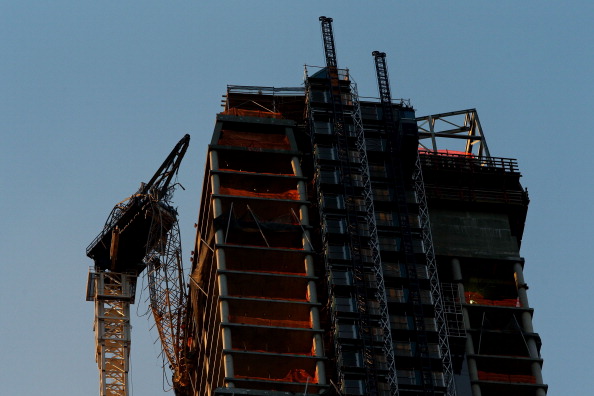 It's true of communities across the city, so why not West 57th Street? From the Rockaways to Staten Island, people have returned to their homes and businesses but found them without power, and the same seems to be going for the one-block stretch of the city that was shut down after the crane boom of One57 snapped back.
Yesterday, the city secured the crane boom to the side of the building, a day ahead of scheduled, and reopened the street. But that does not mean life is yet back to normal. According to a number of people on the street, they remain without electricity or heat—even though Con Ed claims otherwise. "They said we couldn't expect anything before noon," Daniel Van Doren, whose family owns 130 West 57th Street, told The Observer in a phone interview from his MetroNorth train headed to the city.
"Just like the rest of this debacle, Con Ed is not giving much detail," Mr. Van Doren added.
The Observer also spoke with someone at the Salsibury Hotel, the 118-room hotel at 123 West 57th Street that had to be evacuated because of the crane accident. "We're not back up yet," said a woman at the front desk, who asked we not use her name. "We really hope we'll be back this afternoon by three, but that all depends on Con Ed."
This would seem to contradict what a Con Edison spokesman told The Observer this morning. "The power has been turned back on, but there are still some customer who have issues we have to deal with," Alfonso Quiroz said. But Mr. Quiroz also mentioned flooding issues on the street as a problem, which so far no one has reported as a problem, this being some of the highest ground in Manhattan.
The power was shut down following the accident to ensure no further damage should the crane boom fall and puncture a gas main or electrical line, which could have triggered an explosion.
The lack of help from Con Ed extends not only to landlords but tenants, as well. "Do you know when I will be allowed access to my building (north side of 57th, between 6th and 7th)?" Stuart Bernstein wrote The Observer in an email. "My office is there, and I can get no info on when I might gain entrance to my building. Extreme frustration on many people's part as no info is coming out about this block near the crane."
Update:According to Dan Garodnick's office, "it could be a few days" before some people on the street see resumption of heat and steam service.