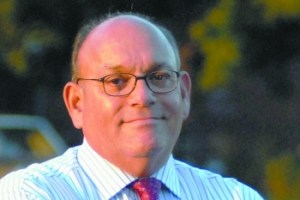 TRENTON – Federal prosecutors painted a picture of Hamilton's embattled mayor for jurors this morning as a cash-strapped elected official willing to offer his official influence in exchange for bribes.
Mayor John Bencivengo accepted thousands of dollars from an insurance broker he once considered a close friend through "back room" deals and, ultimately, broke the law, said U.S. Assistant Attorney Dustin Chao during opening remarks.
Chao told jurors they would hear the mayor on tape saying that "the less that everybody knows" about a check for a cherry bedroom set "the better," explaining the government's star witness – Maria Louise Ljuba – secretly recorded Bencivengo after she was approached by the FBI in June 2011.
Bencivengo was charged in April with soliciting $12,400 in bribes to help an insurance company retain a contract with the township's school district.
His defense attorney asked jurors to "stay in (their) chairs" and wait until the entire trial is concluded before passing judgment.
"You're not to jump to conclusions," said Jerome Ballarotto, the mayor's attorney.
"The fact of the matter is that John never ever denied receiving this $12,000," he said, adding Bencivengo received the money from "a very good friend."
Ballarotto told jurors the mayor "took this loan because he had financial problems," saying he borrowed the money and never did, or intended to, exchange it for his official influence.
Prosecutors say the bribery began when Ljuba wrote a $5,000 check for the bedroom that was funneled to Bencivengo by a friend and former city worker, Rob Warney.
Warney, Hamilton's former director of community planning and compliance, pleaded guilty in June to money laundering in connection with the $5,000 check.
Bencivengo, who prosecutors say will show jurors video evidence of him counting cash bribes, was recorded saying Warney "got that money to me a little bit at a time," Chao said.
Prosecutors also say Bencivengo himself admitted to federal agents that he accepted bribes and even made a recording himself on behalf of the FBI that implicated Warney in the money laundering scheme.
Ljuba and Warney are scheduled to testify during the mayor's trial.