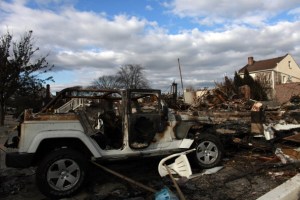 Earlier this afternoon, "a group of irate Orthodox community leaders" held a conference call to protest poll site changes implemented in the Far Rockaway neighborhood of Queens. In the call, local Jewish leaders alleged their new voting location was designed to dampen turnout in their ideologically conservative community as it struggles to deal with the aftermath of Hurricane Sandy's devastation.
"We're a group of people who really, really suffered tremendously," Richard Altabe, a board member of the Far Rockaway Jewish Alliance, said. "Or voting rights are about to be taken away from us. It's going to be difficult enough to get people to vote….Our ability to speak and have our voices heard is going to be squashed by circumstances. I'm really, really horrified."
The new poll site in Far Rockaway, the leaders said, was a mile away from their current one. Eli Shapiro, of the Far Rockaway Jewish Alliance, claimed they presented a closer, alternative site to the Board of Elections but were shut down
"We've been told that the Democratic commissioner won't sign off on the change of location," Mr. Shapiro said, but he was unable to elaborate further on the specifics.
Mr. Shapiro and Mr. Altabe both represent organizations that formally endorsed GOP Councilman Eric Ulrich's campaign against Democratic Senator Joe Addabbo, which is among the most highly-watched in the entire state. Mr. Ulrich's campaign organized the conference call.
"Absolutely. Why else did they do that? Why else would they disenfranchise a community?" Mr. Altabe said when asked if it was a conspiracy to boost Mr. Addabbo's reelection bid. "I would not like to believe that Joe Addabbo himself would want such a thing. Even though we supported one candidate over the other, we don't believe Joe Addabbo to be an evil person."
Others have also sounded the alarm over the BOE's Election Day plans tomorrow, including Mayor Michael Bloomberg. As of this writing, the Board took down their list of poll site changes online, and the hotline number for more information, 1-866-VOTE-NYC, results in a dial tone. An alternative number provided by good goverment groups, 1-866-OUR-VOTE, is available, however.
BOE Commissioner J.C. Polanco said his agency is working "around the clock" to ensure all New Yorkers can vote tomorrow.