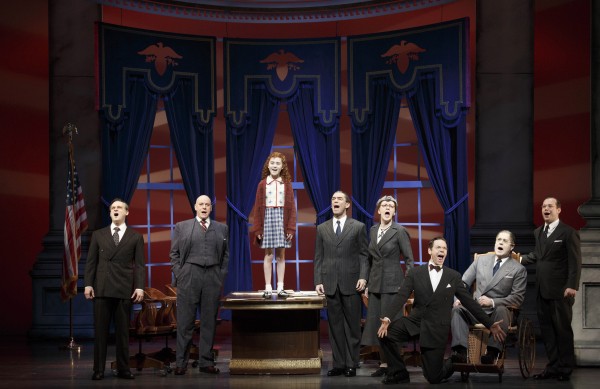 "I've just decided that if my administration's going to be anything," declares Franklin D. Roosevelt, as a auburn-haired orphan is inspiring the New Deal with an Oval Office reprise of her stick-up-your-chin-and-grin anthem, "it's going to be optimistic about the future of this country!" The moment comes midway through the second act of Annie, which opened in its latest revival last week at the Palace Theatre, but the show is swimming in what turns out to be justified optimism: that an orphan girl will find a family, that FDR will save the country, even that a Republican one-percenter can turn out to be a mensch.
And leapin' lizards was this reviewer optimistic for the show. The original 1977 production, a few years into its run, was the second musical I saw and the first cast album I obsessed over. Charles Strouse's score remains as brassily, bouncily delightful as it was on that scratched LP, and Martin Charnin's sweet and snappy lyrics retain their originality even as they've become part of the vernacular. Finally, the moment does seem right: the Krugman Nation, secure in our post-election self-regard, can only revel in choreographed calls for stimulus and jobs programs.
But the bad news—more bad news, after the Depression newsreel that opens the show—is that I couldn't muster enough optimism to give myself over to this hard-charging but ultimately plodding production, which never manages to deliver the genuine emotion and enthusiasm the show requires. The orphan girls scrub the floors, all right, but Annie never shines.
A signal problem, discovered on re-encountering this play as an adult, is that Thomas Meehan's script is awful. Really awful. At best, it's a painfully thin and mechanical progression from number to number; at worst, it's so ill-constructed that nearly all the major plot developments—Warbucks's transition from being indifferent to Annie to being enamored of her; the foiling of Rooster's plot to claim Annie and take Warbucks's reward—happen offstage. A consistently funny running joke is that Roosevelt is portrayed as a goofy loser, but it quickly stops being funny when the action stops yet again to name-check, say, Cordell Hull. (I understand for-grownups humor in a kids' show; I question how humorous grownups find jokes about Roosevelt's cabinet.)
It's not helped by James Lapine's busy but unfocused direction, which keeps so much moving so fast that no moments really land. In one of the season's great disappointments, the dependably terrific Katie Finneran is merely adequate as Miss Hannigan. But Anthony Warlow makes a fine and caring Oliver Warbucks, and the orphan girls, including Lilla Crawford in the title role, are all charming and funny, if never revelatory. Unfortunately, their Noo Yawk accents—and especially Annie's—are atrocious, unless the intent was to render "Tomorrow" as if sung by Mr. Magoo.
And yet—there's still that optimism, and it's overpowering. You're never fully dressed without a smile, as Annie famously tells us, and I walked out of the theater wearing one from ear to ear.
FROM SPUNKY ORPHANS to angsty teens: Vaginamonologuist Eve Ensler opened her latest play, Emotional Creature, at the Signature Center on Monday night, and it's a warm-hearted anthropological examination of what it's like to be a teenage girl. Performed by a crackerjack and carefully multicultural cast of six, it's angry, empowering and entertaining, and it would make for an excellent middle-school assembly.
That's not to dismiss it entirely. In a 2010 bestseller titled I Am an Emotional Creature, Ms. Ensler offered monologues and stories inspired by girls she'd met around the world. She adapted that book into this play, which director Jo Bonney has staged as an intense, engaging 90 minutes that makes great use of video projections (designed by Shawn Sagady), dance breaks and a handful of original songs (by Charl-Johan Lingenfelder). The girls onstage are talented and fiercely committed.
The stories they tell are affecting, whether about sex and body image, struggling to fit in with the cool girls, eating disorders or—from further-flung parts of the world—genital mutilation and gang rape. And the message is important: girls are strong and deserve respect, and problems are universal.
But it's also the play's great flaw. They're noble ideas, but not in any way original ones. Where The Vagina Monologues was groundbreaking, this is predictable. For better or for worse—in that we have witnessed some of the horrors described, it's for the worse—we've been through this all before.
WE'VE SEEN IVANOV BEFORE, TOO —but we probably haven't seen it like this.
This early Chekhov work hits the Russian playwright's usual topics—the self-defeating, self-involved ennui of the 18th-century provincial gentry—and it hits them hard. Here, the problem is boredom. Everyone is just so bored—most especially Nikolai Ivanov, whose boredom crosses into depression, and whose self-obsession, even as his wife is slowly dying of tuberculosis, is paralyzing.
But in the Classic Stage Company's new production of Ivanov, which opened Sunday night, the title character is played by Ethan Hawke, who renders him the loudest, angriest, most viscerally animated sad sack you've ever seen. Mr. Hawke is a fine actor, but he is not a subtle one, and his scenery-chewing portrayal of a depressive seems out of place in Austin Pendleton's otherwise delicate staging. (The translation is by Carol Rocamora.)
Joely Richardson is measured and restrained as Ivanov's dying wife, and Juliet Rylance is lovely and earnest as the friend's daughter who falls in love with him. Even the set (by Santo Loquasto) is washed-out, suggesting faded grandeur. But Mr. Hawke's Ivanov, with his high-strung melancholy and his constant, overbearing assertion of his own unhappiness, overwhelms all the rest. When ultimately it overwhelms the character, too, you'll wish you didn't feel relieved.