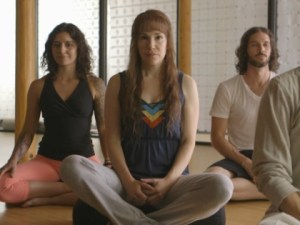 After HBO's Girls, there really is only one show that perfectly encapsulates the adorka-suicidable tweeness of today's 20-somethings, and that is Fred Armisen and Carrie Brownstein's sketch series Portlandia. The IFC show takes on a broader range of crunchy subcultures to parody than Ms. Dunham's, and its gently-mocking, "You've got to love them even though they are ridiculous and also 'they' are 'you,' so lighten up" tone is way less controversial than the abrasive, uncomfortable humor behind Girls.*

With the third season premiering in January (the same month as Girls, actually), Portlandia has released its first teaser sketch. But where does one go after one has already pickled and put a bird on everything?
Yoga class, of course.
[protected-iframe id="999f3c5c5bfb3ee5ca46c32f085584c5-35584880-35147716″ info="http://c.brightcove.com/services/viewer/federated_f9?isVid=1&isUI=1″ width="480″ height="270″]
Namaste, indeed. This season better have a running narrative about doulas, or we'll be really pissed.
*Unless you find out the truth about Portlandia by taking hallucinogens at its premiere party, at which point you pretty much are a Girls episode.