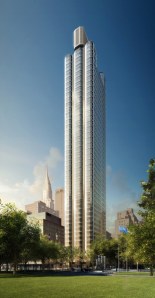 Those Zecekendorfs sure do love their starchitects.
From William Zeckendorf's work with I.M. Pei and Minoru Yamaski in the 1960s and '70s to his grandsons' projects with the likes of  KPF and, most notably, Robert A.M. Stern, who created both the brand new 15 Central Park West and the newly renovated 18 Gramercy Park South, the Zeckendorfs have a thing for high design.
Add to that now 50 UN Plaza, a 44-story condo tower on the East Side that will be Lord Norman Foster's first residential commission in the United States. Mr. Foster is well known for his work on the Hearst Tower, World Trade Center Tower 2 and the new Sperrone Westwater Gallery on the Bowery, as well as a new commission for 425 Park Avenue for L&L Holdings. With this latest commission, he cements his place as an all-around architectural power in the city.
Tomorrow morning, Arthur and William Lie Zeckendorf, real estate scions like few others, will break ground on the project at 345 East 46th Street, on the corner of First Avenue. The location will afford the project prime river views, as well as a prominent place on the skyline right between the United Nations headquarters and the Trump World Tower. The Observer has obtained an exclusive rendering of the project, which shows a glassy building of in the high-tech vein for which Foster + Partners is best known.
More demure than buildings like Hearst or the so-called Gerkin in London, 50 UN Plaza seems to strike the proper balance of brash understatement the Zeckendorf's so seem to favor.
The project holds special significance for the Zeckendorf family, since they got their start at the United Nations. William Zeckendorf, Sr., assembled the land that Nelson Rockefeller than bought to build the United Nations complex, and Arthur and William Lie Zeckendorf's maternal grandfather was Trygve Lie, who served as the first secretary general of the United Nations.
A special announcement of a gift to the neighboring Daag Hammarskjold Plaza park is expected at the ground breaking, with Borough President Scott Stringer in attendance, as well as local Councilman Dan Garodnick and Eyal Ofer, head of Global Holdings and a partner in both 50 UN Plaza and 18 Gramercy Park South.
The project will include 87 units, ranging from one-bedrooms as large as 1,100 square feet to three bedrooms as big as 3,000 square feet. There will also be a number of full-floor residences twice that size, as well as a penthouse duplex measuring some 10,000 square feet. Like at 15 Central Park West, one of the marquee features will be a private driveway. It is Lord Foster's first American apartment tower, following on the success of work he did in Vancouver, at Jameson House, completed in 2004.
The development of 50 UN Plaza is expected to cost $500 million to build, with completion by the end of 2014. If it is even close to the success of 15 Central Park West, which sold $2 million worth of units when it first came on the market (and is worth probably twice that now given a gangbuster market for resales in the famed building), then the Zeckendorfs and their partners should have no problem making an easy return on their investment here.
It looks like have just wrested the crown of New York's most luxurious development back from Gary Barnett.