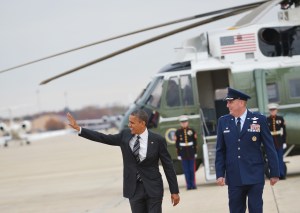 In the immediate aftermath of Hurricane Sandy, President Barack Obama toured New Jersey, but, at the request of Mayor Michael Bloomberg, did not go to the hard-hit areas of New York City due to concerns that he would drain emergency resources. That changed today, however, and Mr. Obama is currently in Staten Island along with Mr. Bloomberg, Governor Andrew Cuomo and other elected officials. According to our own Hunter Walker, who's traveling with the president, Mr. Obama surveyed the damage to Breezy Point and the Rockaways from the air, and received a fairly positive response when he landed in Staten Island.
"A group of residents who were here at the center, which was not closed today, are cordoned off about 200 feet from the tents," he wrote. "They cheered when POTUS arrived. Several became dismayed and shouted 'Get out of the way' when the press corps blocked their view of the president."
Additionally, Mr. Obama is scheduled to observe federal response teams in action. "After visiting the FEMA tent, President Obama will stop in a Small Business Administration tent," the pool report continued. "He will then greet a line of disaster relief workers with FEMA Corps, an AmeriCorps program started in 2009. The third tent he will visit is for food distribution."
After that, Mr. Obama, Mr. Bloomberg and Mr. Cuomo will visit a street heavily damaged by the storm, and each of them are expected to deliver remarks.
Update (1:45 p.m.): More details from the pool report:
Inside the Small Business Administration tent, President Obama and Congressman Grimm spoke with some of the relief workers and local residents. The president hugged several people and also posed for photos. Pool's vantage point was about twenty feet away through a small opening in the tent so it was difficult to overhear their conversations. We overheard the president tell one woman "it's your anniversary." He told a relief worker "You guys are doing great work" before taking a picture with them and promising "We're going to do a big FEMA picture later."
Schumer, Gillibrand and Cuomo stood outside talking. We asked them for their thoughts and Schumer suggested we "wait until later."
When Obama left the tent, he greeted NYPD Commissioner Ray Kelly with an enthusiastic handshake-slash-hug.
"You've been busy," POTUS said to Mr. Kelly.
We could not hear the rest of their conversation.
After visiting the SBA tent and greeting Mr. Kelly outside, Obama posed for photos with the FEMA Corps volunteers. Pool overheard him telling them something about how happy he was "having young people like you who are involved like this making a difference in people's lives."
Next, POTUS made his way to the cordoned off group of cheering residents many of whom shouted his name and "we love you!" Pool saw one woman wearing the president's photo on the brim of her winter hat. Along with the governor, mayor and senators, the president worked the line shaking hands and taking photos. As he walked away he shouted back, "God bless you."
He then proceeded to the next tent which had a sign outside saying "Distribution Loading Area." On the way in, he dropped a small piece of paper and picked it up. Inside there were canned foods, cleaning materials, blankets, gloves and other supplies. Some residents were inside picking things up. The president and other officials posed for more photos and spoke with them.
Pool talked with a man who said his name was Al Bevacqua and he was from nearby New Dorp. We asked what he had to say to the president.
"We just want our houses fixed. We just need help. It seems like FEMA can't do anything without the insurance companies. They help with goods but we need the insurance companies," he said. "There's a lot of help out there. The community's been off the charts. Government's been doing what they can…but the insurance companies just keep people on hold. The community's been tremendous."
He later got a chance to speak with the president, but we could not hear.