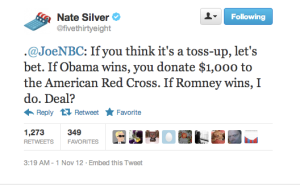 Margaret Sullivan, The New York Times public editor, is not amused by golden-boy statistician Nate Silver's latest antics.
This afternoon, the FiveThirtyEight blogger and Times writer challenged Morning Joe's Joe Scarborough to a 21st century type of duel. The terms? If Barack Obama wins, Mr. Scarborough will have to pay up. If Mitt Romney wins, Mr. Silver will pay. The wager? A $2,000 (it was raised from the original $1,000) donation to the Red Cross. The method for laying down the challenge? Twitter, of course. It is 2012, after all.Mr. Scarborough has not taken the bait so far, but that hasn't stopped Ms. Sullivan from finding Mr. Silver's behavior to be unseemly for someone with a desk in the Times newsroom. Mr. Silver is not actually a staff writer at The New York Times–his blog is licensed by the Times and he writes for the paper of record (and the website of record).
"It's also inappropriate for a Times journalist, which is how Mr. Silver is seen by the public even though he's not a regular staff member," wrote Ms. Sullivan.
Ms. Sullivan asked the arbiter of Times style, standards editor Phillip B. Corbett, to weigh in.
"I wouldn't want to see it become newsroom practice," Mr. Corbet said. Although he doesn't sound like the biggest fan, Mr. Corbett explained that the mitigating factor is that Mr. Silver is a blogger, which is "something like a columnist."
The blogger defense didn't placate the public editor. It is the Times, after all.
"But he is closely associated with The Times and its journalism – in fact, he's probably (and please know that I use the p-word loosely) its most high-profile writer at this particular moment," she wrote. Flattery can only get you so far. Ms. Sullivan pointed out that the Times is a good brand on any resume.
"When he came to work at The Times, Mr. Silver gained a lot more visibility and the credibility associated with a prominent institution," Ms. Sullivan wrote.  "But he lost something, too: the right to act like a free agent with responsibilities to nobody's standards but his own."
Ms. Sullivan previously went after freelancer Andrew Goldman after his poorly thought out Twitter outburst. The catch, of course, is that a Times byline may come with expectations, but unless you are on staff, it doesn't come with health insurance.