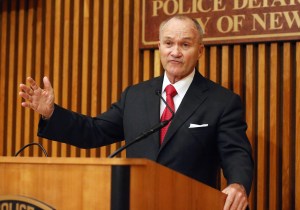 Ray Kelly tends to stay out of politics, much to the dismay of some, but the city's police commissioner fired a rhetorical shot at President Barack Obama while discussing gun violence with the Daily News yesterday.
"Maybe the city most affected (by guns) is Chicago," Mr. Kelly said. "The President's hometown. But barely a peep out of him."
Chicago has been plagued by homicides in recent months, a sharp increase over the previous year. Mr. Obama actually referenced this trend during his second debate with Republican Mitt Romney during the presidential campaign.
"What I'm trying to do is to get a broader conversation about how do we reduce the violence generally," Mr. Obama said said at the time. "Part of it is seeing if we can get an assault weapons ban re-introduced, but part of it is also looking at other sources of the violence. Because frankly in my hometown of Chicago, there's an awful lot of violence, and they're not using AK-47s. They're using cheap handguns."
Mr. Kelly's comments echo Mayor Michael Bloomberg's frequent gun-related criticism of the president, specifically Mr. Obama's alleged refusal to push for legislation like the assault weapons ban he cited during the debate.