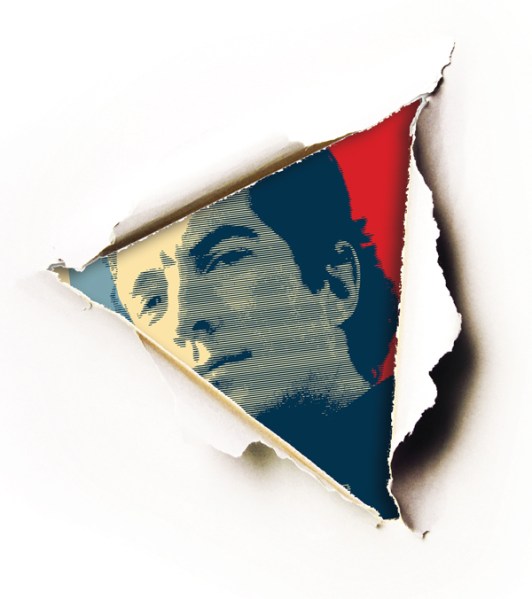 Besides being the month of Thanksgiving, November is the month of the Dead Kennedy. It's a time of remembering a day of blood and brains on a pink dress in Dallas, a portal into a black hole in the last half-century's history.
For those of us born in and after the 1960s, who can't literally recall the day of the assassination, the real figure from November 1963 haunting our childhood imaginations was a boy, our age, standing in short pants and saluting his father's coffin.
John Kennedy Jr., who would have turned 52 this week, was our Kennedy. The beautiful man known as John John, who grew up cavorting on the Cape and Skorpios with Jackie O, discoing in New York with Mick and Bianca and Andy, was a symbol of sex and privilege, his elitism so gracefully carried. 
I met him on a few occasions when I wrote for his magazine George. His pet project was idealistic, and a bit ahead of its time. The magazine was first of all an extension of the Kennedy brand: substance, celebrity and just enough whimsy to appeal to those who had flipped the channel from the nightly news to MTV.
In person he was an easygoing thoroughbred, perfectly mannered, all varnished normalcy. Sitting beside him at lunch in a Washington bistro, you knew that he knew exactly which fork to use first, but he wasn't going to make you feel bad for not unfolding the napkin properly, either.
Turning up at New York parties in the 1990s, he and his blond wife were luminous creatures, towering over everybody else, tall, sylphic and fair. Olympians.
In the 13 years since he died, I remember Kennedy whenever I exit the Franklin Street subway station by Bubby's, the corner restaurant where the paps so often staked him out, across from the Tribeca loft he shared with his lovely, restless and unhappy bride until the day they died.
This month, though, I found myself thinking about him while driving west from the city at Thanksgiving, beneath the contrails of small jets and planes crisscrossing sky over Essex County Airport, the location from which he took off on a summer day in 1999.
Before the 2000 election and 9/11, that plane crash in the fog over the Cape was one of the tragic millennial plot twists. I'm not saying Kennedy would have been president or changed the course of history. But he was our generation's Kennedy, possessed of that rare quality from another era called charm, who might have helped recharge the progressive politics that were his birthright. Maybe, just maybe, he would have shown the brutes in Washington how to be civil in an uncivilized age.
Our Kennedy was, like the rest of us, a self-indulgent underachiever, a little lost. He loved his Frisbee, and he flunked the bar exam a couple times. But his greatest underachievement was his untimely death. What he might have been—perhaps a senator or governor—we will never know.
JFK JR.'S DAD ENDURED A SECOND, reputational death with revelations about CIA plots and his seedy private life, the revolving door of women in and out of the White House, feeding the now-named sex addiction. The younger Kennedy didn't want to see that. I wrote a book about one of the mistresses and I never wrote for his magazine or saw him again.
He protected his dad's legend, surely, but the rest of us came to expect, if not to revel in, the failures of his storied clan, from the peccadilloes of Bobby and Teddy, to the lost souls of the next generation, the heroin addictions, the rape charges, the car crashes, and most recently, the divorce ending in suicide of Bobby Junior's wife in Katonah.
As children of the 1960s, we grew up knowing better than to put our faith in great men and higher institutions—starting with Nixon's resignation, the Church committee naming the dirty deeds done in service of our free enterprise around the world, the coups and assassinations, drug experiments, the dirty wars.
Born at the end of the Baby Boom, we were cowed into learned helplessness by black ops and nuclear Armageddon and by easy drugs and cheap gas, too young to protest, too high to care. We partied because tomorrow might never come, pretty sure we were the final generation before nuclear Armageddon. We had no clue that a different sort of Armageddon was underway, slow, painless and invisible, until the streets of Detroit turned into apocalyptic movie sets and our ponds stopped freezing in winter.
In their book, That Used to Be Us, Thomas Friedman and Michael Mandelbaum lay out the statistical decline that's occurred on our generation's watch.
Thirty years ago, 10 percent of California's general revenue fund went to higher education and 3 percent to prisons. Today nearly 11 percent goes to prisons and 8 percent to higher education.
The shameless abandonment of all communitarian impulse that lay behind the Reagan era wealth shift happened on our watch: the top 1 percent now holds 40 percent of the wealth. Twenty-five years ago, the top 12 percent held 33 percent of the wealth.
The truest measure of our generation's decline is in the kids of a gutted middle class. The descendants of Greatest Generation are fat, diabetic, meth-addicted sloths who couldn't make it through basic training if they were so inclined. "Seventy-five percent of young Americans, between the ages of 17 to 24," Messrs. Friedman and Mandelbaum wrote, "are unable to enlist in the military today because they have failed to graduate from high school, have a criminal record or are physically unfit."
The authors blame outside forces: globalization, the revolution in information technology, the nation's chronic deficits and its pattern of energy consumption.
But we know better. We know that the decline started inside of us. Like Kennedy—our best and brightest—our own squandered potential comes from the don't-give-a-shit decades of our extended youth, from the classes we cut in college to smoke dope and play Ultimate, from the planet we heated with the fumes from so many cross country road trips, and from the island of plastic in the Pacific we would make with our limitless intake of bottled water and supersized soda.
Frank DiGiacomo, in a July 1999 obit for John Jr. he wrote in these pages, tried to describe what Junior's death meant for his peers. Mr. DiGiacomo didn't know that it was one dispiriting tragedy preceding so much worse—the imminent disastrous election of 2000 and the falling of the World Trade towers.
But he sensed something dark coming, as we all did.
"We're all older now," Mr. DiGiacomo wrote. "And somehow, New York's 21st century seems a little colder and more distant knowing that John Kennedy—who was supposed to be in our future, who may be irreplaceable in our lives—is contained forever, back here with our youth, in his father's century, the 20th."
John John died just as he was getting his act together at age 38—belatedly, like the rest of us, getting less diffident, gaining hope, finding a purpose. He would have been gray around the temples by now and, who knows, maybe living up to his birthright and promise as another desperately needed, persuasive voice for progressive ideals in Albany or D.C.
We, his peers, forge into middle age and these troubled times that none of us foresaw or, it must be admitted, would or could have tried to prevent.
RIP this week then to our misspent youth, and to the very symbol of its lost promise, the boy saluting death, forever.
editorial@observer.com