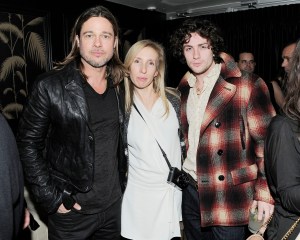 Last night the Cinema Society and Men's Health presented Brad Pitt's latest feature (besides those Chanel ads), a dark shoot-em-up called Killing Them Softly. The after party, held at No. 8, was jammed back full of celebs, though Mr. Pitt, Harvey Weinstein, Jack McBrayer, and Amy Adams remained secluded from the whole ordeal by two large security guards who literally linked arms to stop the crush of people from trying to wiggle their way into the VIP area.
Besides being an odd hodge-podge of fame, can we just examine, for a moment, Jack McBrayer's IRL persona, which is not very distinguishable from that of his 30 Rock character, Kenneth Parcell? I.e., when telling the actor how much we liked his animated performance in Wreck-It-Ralph, he replied, "Awww, gosh, thanks!" Which is definitely something we can all imagine Kenneth saying, yes?
Nearby, Chris Noth was giving advice to a young woman with dark hair. "If you aren't doing what you love, I'd just say quit. Is your agent getting you work these days?"
Two feet away, Ray Liotta had stopped to talk to Fisher Stevens. "Fuck that motherfucker," he said, in response to a mutual acquaintance. "Just fuck that guy."
Upstairs, Patrick Wilson conferred with Rose Byrne and a bevy of beautiful models while Boardwalk Empire stars Bobby Carnivale and Billy Magnussen mingled with friends on the stairs.
With bodies crushed at the bar to get to the liquor sponsor of the evening, DeLeón tequila, we kept being nudged in the back by a very tall young man with a newsboy hat and a wispy beard. ("What kind of drinks are they making? What does your tattoo say? Etc.)
Finally we handed Matthew Lillard the drink menu so he could check out for himself, and remarked how much we had loved Scream as a teenager.
"Did you know that it came out on Thanksgiving weekend?" he asked. "It was this brilliant piece of counter-culture programming, ever. That was all Harvey."
And what was Mr. Lillard doing in New York these days?
"Oh, just hanging out with this guy! We're making a movie together," he said, waving down the person on the other side of us.
"Hello, I'm Patrick," said Sir Patrick Stewart. We all ordered some sort of whiskey/bourbon and soda/water combination and raised our glasses.
With all the blood and guts and gore that make for (apparent) box-office gold during the holidays seasons, we asked Mr. Lillard if he had any favorite non-violent Christmas classics.
"Well, there's really only two, and they are cliche," he admitted. "There's the Jimmy Stewart one, and A Christmas Story."
Had he heard about the terrible straight-to-DVD sequel of the A Christmas Story that recently came out?
"Don't tell me that…I wish you hadn't told me that," Mr. Lillard groaned. "In fact, you didn't tell me that. I am glad that I have never been told such a terrible thing."
He told us the next time we were in Ohio, we should go visit the Christmas Story house, which had artifacts from the film. We promised we would. Sir Patrick Stewart was with his partner, Sunny Ozwell.
As we left, we passed the crowd surrounding Mr. Pitt even within the relatively contained VIP section. He had long hair. Angelina Jolie was not with him. Harry Belafonte was, though. We quickly finished up our bourbon and left onto the wintery streets, where paparazzi still mingled, huddled together for warmth and determined to get a picture of Mr. Pitt leaving the Chelsea club before the night was over.