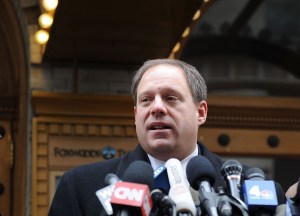 Assemblyman Rory Lancman, who lost a Democratic primary to Congresswoman-elect Grace Meng earlier this year and declined to run for reelection, now has his sights set on a new chamber of elected office: New York City Council.
"There's a tremendous turnover in city government next year, including the City Council itself," Mr. Lancman told us yesterday afternoon. "So I think there's a real opportunity for someone with experience and energy to have a big impact in shaping the city in the next 4 to 8 years. That's something that this time didn't really exist for me in the State Assembly but will in the City Council. It's exciting to be a part of it."
Mr. Lancman intends to run for term-limited Councilman Jim Gennaro's seat in eastern Queens. And, unlike his congressional campaign where the local Democratic establishment had aligned against him, they appear to be fully at his back this time around, at least if his campaign kickoff invitation is any indication. The event is headlined by the borough's Democratic chairman, Rep. Joe Crowley, while Ms. Meng and a plethora of local elected officials are members of the host committee. Also included are representatives from a number of labor heavyweights, including UFT, RWDSU, SEIU 32BJ, SEIU Local 199, Hotel Trades Council and more.
"It's way too early for any official endorsements, this is part of the process not the end of it," he said. "But I'm very, very optimistic, that at the end of the day the party is going to be behind my candidacy and we're going to go forward together. For people to be supportive of me when I'm running for the City Council even though they weren't when I was running for Congress 5 months ago, really emphasized the fundamental truths that relationships are more important and deeper than one particular political race."
Currently, no other challengers for Mr. Gennaro's seat have emerged and the Democratic bench of elected officials in the district is more or less limited to Assemblyman Lancman and Assemblyman Mike Simanowitz. Working in Mr. Lancman's favor, Mr. Simanowitz is also part of Mr. Lancman's host committee.  Update (10:58 a.m.): District Leader Martha Taylor is reportedly moving forward with a campaign too.
[scribd id=113768428 key=key-1vtp2kod5dl6hg14e1wf mode=scroll]