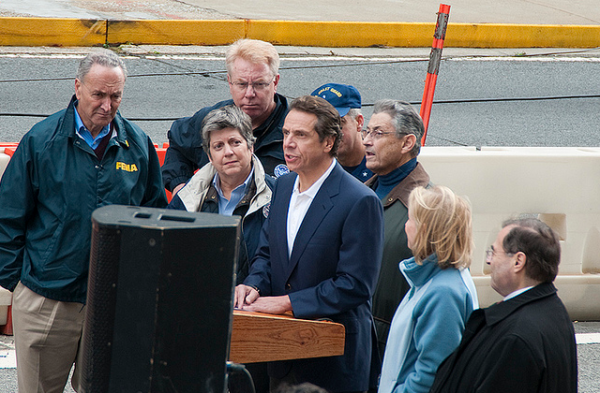 There has been a big debate in (local) government about how best to respond to Hurricane Sandy going forward. There is the governor's camp, which argues for redesigning great swaths of the city and state's built environment; and the mayor's camp, which both before the storm and after, argued that the city could never really protect itself from these kinds of disasters, so it was up to citizenry to protect themselves. The city would help with evacuations and the like, but really, don't build near the sea or count of some fancy new sea gates to protect you, the mayor insisted.
During the recovery, The Observer would ask major officials into which camp they fell. Both Senator Charles Schumer and Congressman Jerry Nadler (who represents much of the formerly flooded downtown Manhattan) put themselves in the camp of doing more, building more, protecting more.
"For the future, we have to look into it," Senator Schumer said.
He stressed that if anything, the storm serves as a wake-up call to action for investments and practices the city should have been undertaking already anyway because of sea rise due to climate change. "We were going to have look into it anyway, with the waters rising and climate change," the senator said. If anything, Sandy may have saved us from something far worse in the future, the quiet, creeping tides that go largely unnoticed.
The senator did not have any specific ideas on what might be good measures to undertake, but he seemed eager to get into the discussion. "We're just at the beginning of thinking about it," the senator said, saying that the clean-up efforts would have to come first. He did say he would work to wrangle money from the federal government to help pay for any solutions the city comes up with. After all, if the Army Corps and the treasury help keep up the flood protections surrounding New Orleans and the rest of the Mississippi Delta, why not do the same for new York Harbor?
Congressman Nadler, on the other hand, had plenty of recommendations. He is a bit of a waterfront infrastructure wonk, after all, having called for trans-harbor freight rail and other interesting investments in the past.
"Certainly Lower Manhattan, we should have much higher seawalls," Mr. Nadler said. "We had a 14-foot surge. Why couldn't you have a wall around Lower Manhattan that went up 14 feet? I don't know how much it would cost, but it would be a heck of a lot cheaper than the cost of a flood." He said the gates could even be retractable, but something like them seemed prudent.
Utilities were another major concern. "The Con Ed station at 14th Street, that cut off a quarter of a million people," the congressman said. "That, and other facilities like it, should be waterproof. They should not be flood-able. You could insulate them. They could be made like fortresses. Given how valuable they are, how crucial they are to lives and fortunes, they should be."
Mr. Nadler also echoed a now-familiar recommendation, to build some serious infrastructure around the harbor to help protect from other storms. "To me, we should consider to protect the city through the kinds of storm gates that Rotterdam and London have," he said. The congressman even rattled of what should be built where, such as gates and sluices at Perth Amboy, Hell's Gate and the Verrazano Narrows, thus cutting off much of the harbor from a storm surge.
"It's big, but you could do it," Mr. Nadler said. He also acknowledged the considerable, but worthwhile costs of such an investment. "The cost estimate for that is 10, 12 billion dollars, but to two or three of these storms, even one of them, is more than that," he said. Indeed, Comptroller Thomas DiNapoli calculated an $18 million cost to the city as a result of the storm, but that includes the entire five boroughs, much of which would not be protected by these fancy new sea gates.
This is a problem Mr. Nadler fully acknowledges. "The problem is it wouldn't protect Coney Island, Sea Gate or Jamaica Bay," he said. "It would protect downtown, Brooklyn, Hoboken and Jersey, but it's not the answer to everything. It's something to consider seriously, but unfortunately, given the geography of the city, there's no way you do a storm gate that would give you broader protection.
But he still thinks it would be worth pursuing. "I don't think it's right to dismiss these proposals off hand," Mr. Nadler said. "They should be studied carefully, and a lot of them should be done. Maybe the storm gates, maybe not, but certainly Lower Manhattan and Brooklyn would be much better protected. And our electrical facilities. Also our subways." By protecting these critical pieces of infrastructure through a large project like sea gates, it might save the government money on other, smaller investments that would then not be necessary.
Whatever winds up being the appropriate solution, big or small, Mr. Nadler agreed with Mr. Schumer that something must be done.
"People say the worst case scenario could happen—it just did, almost," the congressman said. "It could have been a little worse. But people after Irene said, oh, all the hype, it didn't happen. It just did. Now you have to look at all these proposals and realize these kinds of things can happen, especially with climate changes, the seas are getting warmer, it means there's more energy for these, there's going to be higher waves, harsher storms, more often.
:We have to protect ourselves. Things that weren't practical in terms of the investment, now they will be."