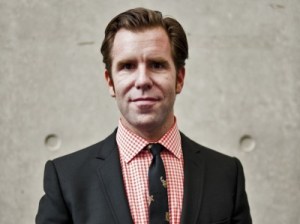 Scott Dadich has been named editor in chief of Wired, Condé Nast announced today.
Mr. Dadich, who is replacing Chris Anderson, comes from the corporate side at Condé– he most recently served as vice president, editorial platforms and design since 2010. Mr. Dadich was the creative director of Wired from 2006 to 2010.
"Scott has been at the forefront of the company's digital innovation for the past three years, developing the design for a digital magazine that has become an industry standard,"said Condé Nast editorial director Tom Wallace. "His return to Wired, where he served as creative director and won three National Magazine Awards for Design, will ensure that it continues its pace-setting growth."
In a 2010 profile in The Observer, Evan Smith, Mr. Dadich's former boss at Texas Monthly, described him as 'some sort of combination of Jesus and Pele' in the print magazine design world. Mr. Dadich was a pioneer in designing the Wired iPad App and he seen as was Condé Nast's digital savior when he moved over to corporate in 2010 to become Condé's iPad king.
"I'm excited to return to Wired, which has had such a tremendous impact on my life and my career," Mr. Dadich said. "I'm honored to have the chance to build on the legacy of innovation that Louis and Jane started some 20 years ago. And I am grateful to my friend and colleague Chris and the incredible Wired staff. I look forward to finding new opportunities to delight and surprise the Wired community, both with the stories we tell and in the ways in which we tell them."