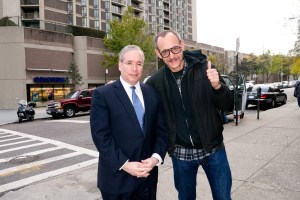 Manhattan Borough President Scott Stringer is a busy guy–dealing with the aftermath of Hurricane Sandy and gearing up for the 2013 mayoral race–he's considered among the frontrunners to succeed Michael Bloomberg. But there's always time for a quick photo op.
Fashion photographer Terry Richardson (who's worked with the likes of Harper's Bazaar and GQ, with infamous shoots including the Glee stars "Gone Wild" and model Kate Upton licking a popsicle) posted a photo to his blog of himself and the Beep; Mr. Richardson gives his usual thumbs-up, while Mr. Stringer looks composed.
The connection between these two unlikely pals–besides celebrity? (Mr. Stringer's other supporters include Scarlett Johansson, who's hosted fundraisers for him.) Mr. Stringer's press secretary, recent Vogue profile-ee Audrey Gelman, is dating Mr. Richardson, as first reported by The Observer.
Given that one of Mr. Richardson's favorite gambits is to make subjects try on his oversized glasses, we'll be waiting eagerly for any future photos.