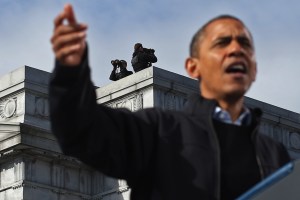 This election may have been far more exciting than anyone realized. According to a GQ story about Mitt Romney and his security entourage, "several assassination plots were nipped in the bud" by the Secret Service during this year's presidential campaign. 
The story, which was written by Marc Ambinder, was about Mitt Romney saying farewell to his Secret Service detail and the tantalizing tidbit about "assassination plots" was not made until the eighth paragraph. Mr. Ambinder did not elaborate beyond saying the "several" plots were thwarted.
Politicker reached out to the Secret Service to confirm whether or not the claim of "several assassination plots" was correct. Secret Service spokesman Edwin Donovan told us the agency did not participate in the story and wasn't sure where he was getting his information.
"We didn't work with Marc Ambinder on that article, so I don't know what his sourcing is," Mr. Donovan said.
The Secret Service provided security to multiple candidates during this year's election. As a sitting president, Barack Obama has had Secret Service protection throughout his time in office. Mr. Romney got a Secret Service detail earlier this year and, as Mr. Ambinder detailed, his agents left his side after the results came in on election night. Herman Cain became the first Republican presidential hopeful to receive Secret Service protection last November, one month before he ended his candidacy amid a growing sexual harassment scandal. Newt Gingrich and Rick Santorum also received Secret Service protection.
During the campaign, multiple people were arrested for publicly threatening President Barack Obama and Mr. Romney, but none of these situations seemed to rise to the level of serious "plots." However, Mr. Ambinder hinted he may reveal more information about his "assassination plots" claim soon when asked about the line in his story on Twitter this morning.
"Might be elaborated upon in a print piece soon," Mr. Ambinder wrote.
We emailed Mr. Ambinder to discuss the claim, but, as of this writing, we have yet to receive a response.
Update (2:50 p.m.): Mr. Ambinder responded to our email and said he was simply referring to instances of threats that have already been publicly acknowledged. 
"Just off the top of my head: there was that guy who shot at the White House from across the ellipse, and then the soldiers arrested for plotting the assassination of the president and others. All public record. All serious enough, I think," Mr. Ambinder wrote. "I don't know any details about any non-public attempts, if there were any. "
Though his tweet this morning promising his story "might be elaborated upon" came as a direct response to a question about the assassination plot line of the story, Mr. Ambinder also said the forthcoming print piece will not include any further details about assassination attempts. 
"The print piece elaboration Tweet has nothing to do with assassination plots," he wrote.