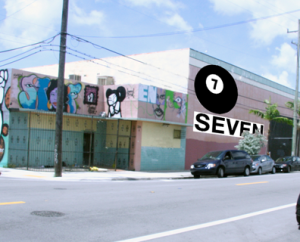 Seven, the art fair collective comprised of seven New York and U.K. galleries, has announced that when it returns to Miami, Dec. 4-9, it will inhabit a new 25,000-square-foot warehouse in the Wynwood district. The galleries—BravinLee Programs, Hales Gallery, Pierogi Gallery, Postmasters, P.P.O.W, Ronald Feldman Fine Arts and Winkleman Gallery—will be showcasing multiple video rooms and a 50-foot-long Salon Wall. Here's a rundown of what they'll be bringing.
BravinLee Programs will show new paintings by Los Angeles artist Laura Krifka, who's having her New York solo debut at the gallery in the spring, and a preview of their show of Tom Sanford's "100 Little Deaths," watercolors of celebrities who died in 2012. Its editions program will feature a new rug by Christopher Wool.
East London's Hales Gallery will show works by Frank Bowling, Aubrey Williams and Hew Locke, three artists who emigrated from Guyana (South America/Caribbean) to Great Britain and represent three generations of the U.K.'s black post-war artistic legacy.
Pierogi Gallery will present pieces from Kim Jones's Averno series, a large-scale Sumi ink drawing by Dawn Clements inspired by the film East Side, West Side and recent work by Darina Karpov, John O'Connor, Ward Shelley and Jonathan Schipper.
Postmasters will feature works by Holly Zausner, Federico Solmi and Sally Smart—artists who combine film and video with collage, painting and photography. There will also be new works by William Powhida, Jennifer and Kevin McCoy and Eva and Franco Mattes among others and will introduce "moveable sculpture-paintings" by Tatiana Berg.
P•P•O•W will show an installation by Dutch artist Melanie Bonajo including some of her recent photographs. Ms. Bonajo will also collaborate in a live performance with Icelandic artist Joesph Marzolla on Thursday, December 6. Other artists featured will include Bo Bartlett, George Boorujy, Robin Williams and David Wojnarowicz.
For its third consecutive year, Ronald Feldman Fine Arts will be showing the work of artists the gallery represents.
Winkleman Gallery will present an installation of Leslie Thornton's film and video series, Peggy and Fred in Hell. The show will be a preview for the new archival restoration of this seminal series, which has been 30 years in the making.