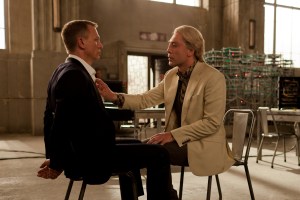 The big question the pessimists are asking about Skyfall, the 23rd entry in the James Bond franchise: Does 007 still have a license to keep an audience alert? The answer: And how! Some of the exhilaration faded when Sean Connery lost his hair and took a powder, but 50 years after Ian Fleming's super-cool agent from Her Majesty's Secret Service was shot from a cannon into movie history, Bond is back, and so is high-octane entertainment.
Skyfall may not reach the sophisticated heights of Casino Royale, but it's better than the lollygagging Quantum of Solace.With buff, camera-ready Daniel Craig lending fresh fisticuffs to the role, and acclaimed director Sam Mendes adding more realism and fewer jokes than in most Bond pictures, it's a satisfying entertainment that delivers a kangaroo kick from start to finish. Despite the less showy Saul Bass-inspired titles and a stupid theme song behind the credits screeched by Adele ("We will stand tall and face it all/You may have my number but you'll never have my heart") that reminds us all how much we owe to Shirley Bassey, Skyfall signifies a new 007 style. The series is beyond gimmickry now. You just look at the toys, try to follow the plot and count the bikinis. But the best thing about Skyfall is the way it maximizes the great Judi Dench as M. It's her best outing in the series to date, and she chews it like taffy. With six you get eggroll, but with vibrant, chromatic cinematography by Roger Deakins (The Shawshank Redemption), anda distinguished assembly of supersonic talents headed by Javier Bardem, Ralph Fiennes, Ben Whishaw and Albert Finney—you get box office platinum.
The film opens with the obligatory chase—007 wrecking an entire bazaar in Istanbul, scaling rooftops on a motorcycle and destroying as many civilians, buildings and moving vehicles as possible, cars that never run out of gasoline, on roads that never end, posing no threat to maintenance. Bond is knocked off the top of a speeding train into roaring rapids and plunges over a waterfall. When the dust settles, a plot emerges; M loses her computer hard-drive, and on it, a file containing the name of every NATO agent in the world's terrorist zones. Hackers then unleash cyber attacks on secret service headquarters in London. Bond is believed dead, M is threatened with dismissal and the series seems in danger of grinding to a halt. When Bond resurfaces, M snarls through clenched teeth, "You know the rules of the game. You've been playing it long enough." Which means no loyalty, no apologies and anything goes. While he was enjoying some badly needed R and R and taking a shower with sexy Bérénice Marlohe, the bombed-out secret service relocated its headquarters to an underground bunker used by Churchill during the Blitz. Bond's unlikely new quartermaster is a wimpy fop named Q (Ben Whishaw) who dispatches him to Shanghai to locate and liquidate the thief who is using M's files to destroy the world. The mega-villain is an epicene bottle-blond fiend played with exotic pansexual delight by Javier Bardem. A renegade agent who used to work for M, he's droll, cynical and seductive. In the film's funniest scene, he straps Bond to a chair, runs his hands lasciviously across his crotch and hisses "There's a first time for everything." Good ol' 007, unfazed, counters with "How do you know it's the first time?"
The movie moves from a casino in Macao, approachable only by boat and surrounded by giant man-eating Komodo dragons, to an endangered London tube station at rush hour, to a hunting lodge in Scotland where M gets a chance to show off some of her own operative training. Mr. Bardem munches a lot of whatever scenery is still standing and Dame Judi employs her icy blue eyes and matching steel reserve with terrifying authority. Bond is floppier and less buttoned-down than usual; he's given up smoking, and the psychology of his traumatic background is explored for the first time. Bond relies less on naked girls and state-of-the-art gadgets than before, but as played by Daniel Craig, he's both a teddy bear and as rugged as ever. So much so, in fact, that when his trusty old Aston Martin makes an appearance at last, the audience bursts into applause. Like the pieces of an elaborate jigsaw, everything falls perfectly into place, and there is overwhelming evidence that James Bond will rise again. Is there life after Skyfall? Stay tuned.
rreed@observer.com
Skyfall
Running Time 143 minutes
Written by Neal Purvis, Robert Wade and John Logan
Directed by Sam Mendes
Starring Daniel Craig, Javier Bardem and Naomie Harris
3/4