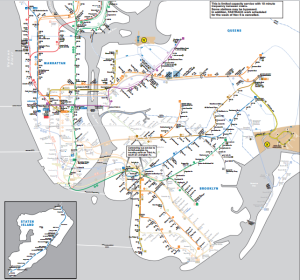 At a press conference at the 69th Regiment Armory in Manhattan this morning, Governor Andrew Cuomo and MTA Chairman Joe Lhota announced most subway service in New York City will be returned by the end of the day. Notably for some commuters from Queens and Brooklyn, trains will now be traveling into Manhattan for the first time since before Hurricane Sandy struck last week.
"In literally under one week, 80% of the subway service has been restored from what was horrendous damage, and the worst damage the subway system had ever seen," Mr. Cuomo said. "So that is just a great, great job. The service between Brooklyn and Queens and Manhattan is being restored immediately. The 4, 5, 6 and 7 trains will immediately begin to run. The F, J, D [and] M will run later this afternoon. The Staten Island Railway will have limited service beginning later today."
According to the MTA website:
 service will operate between Woodlawn and New Lots Ave operating as an express in Manhattan only.
 service will operate between Eastchester/Dyre Ave and Flatbush as an express in Manhattan only.
 service will operate between Pelham Bay and Brooklyn Bridge as a local
 Flushing Line service will operate full local service between Main St – Flushing and 42nd St – Times Square.
Staten Island Railway (SIR) will operate limited hourly service between St. George and Tottenville.