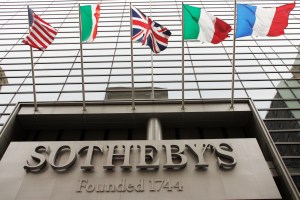 Sotheby's announced today that it lost $32.6 million in the third quarter, which ended Sept. 30, compared to a $29.7 million loss in the same period last year. It attributed part of the increase to an $11.6 million tax benefit in 2011 that didn't occur again this year.
The slightly bigger loss amounts to $0.48 per share as opposed to last year's $0.44 per-share loss, as per Bloomberg, which noted it was "in keeping with the 49-cent average loss forecast by six analysts."
Conventionally, Sotheby's sees a loss in the third quarter since auctions and private sales during the summer months are few and far between, with auctions during this period comprising between 7 to 10 percent of annual sales. The auction house's biggest sales happen in the first and fourth quarters, like tonight's Impressionist and modern art sale and next week's contemporary art evening sale.
Nonetheless, there were some "bright spots" as per Sotheby's president and CEO Bill Ruprecht, who spoke to the press in a phone conference this afternoon. Revenues were up 18 percent in the third quarter to $68.5 million, fueled by a 50 percent improvement in private sale commission revenues and a 56 percent increase in finance segment revenues.
Mr. Ruprecht also noted that sales in London last month, brought in record prices especially in contemporary sales, where Sotheby's made "a high water mark for a picture by a living artist" when it sold Gerhard Richter's painting Abstracktes Bild (809-4), for $35 million. "Great works of art will continue to fetch good prices."