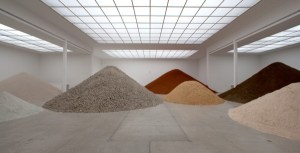 Lara Almarcegui will represent Spain at the 2013 Venice Biennale in a show organized by curator Octavio Zaya. Madrid's ABC newspaper broke the news late last month.
Ms. Almarcegui's work tends to take the form of research-based projects about cities and the environment that result in objects, installations and publications in a variety of different mediums. For her first one-person show in New York, back in 2010 at the Lower East Side space Ludlow 38, she investigated the four-mile-long Flushing River in Queens, producing a book and slide show about the use—and abuse—of the river over the years.
The artist has had major one-person shows at Secession in Vienna, Künstlerhaus Bremen in Germany and FRAC Bourgogne in France. Here's a concise description of her practice, via the news releases for her 2010 Secession show:
In her projects, the Spanish-born artist Lara Almarcegui, who lives in Rotterdam, examines processes of urban transformation brought on by political, social, and economic change. Since the mid-1990s, she has studied urban features that are not usually the focus of attention: wastelands, construction materials, invisible elements. In her first solo show in Austria, Lara Almarcegui has created three new works for the Secession that relate closely to the city of Vienna and to the historic exhibition house while also recurring to earlier works the artist developed in various cities all over the world.
Congratulations, Ms. Almarcegui.
A full list of artists representing nations at the Biennale is available here.