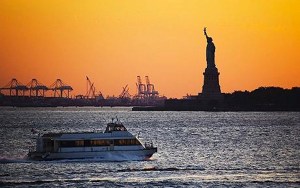 One of the more unusual sides of the city's response to Superstorm Sandy has been the ingenuity of the transportation and planning wonks that help us get around this giant metropolis. It is not only the speed with which the MTA recovered, but also what it and the city's Department of Transportation did in between. Creating bus bridges to replace flooded subways, launching new ferry lines, creating special subway shuttles.
Today, Mayor Bloomberg and Transportation Commissioner Janette Sadik-Khan announced yet another innovation, a second ferry for Staten Island. The Rockaways already has one, and now the city is looking for an operator to serve the hardest-hit sections of Staten Island's south shore. With widespread destruction, many locals' lives have been interrupted, forcing them to leave behind their homes and cars. The new ferry service is seen as a lifeline between Great Kills and Manhattan, for those struggling to get to work and beyond.
"We are committed to rebuilding and helping people in Staten Island and all impacted areas get their lives back on track," Mayor Bloomberg said in a statement. "Part of the rebuilding effort is making sure Staten Islanders have manageable commutes to their jobs despite heavy damage to roadways and vehicles during the storm. This new fast ferry service from Great Kills is affordable and quick, and we are confident it will help ease the commute for Staten Islanders during these tough times."
Already, DOT and the MTA have expanded express bus service in the area on the X23 and X24 lines, and starting next Monday, there should be a ferry running from Great Kills landing to both Pier 11 on Wall Street and the 35th Street Pier in Midtown. Currently, the city is soliciting bids from ferry operators to run the service and it expects to make a decision in time for rush hour Monday morning.
"For those Staten Islanders rebuilding their homes and their lives, every minute counts," Commissioner Sadik-Khan said. "With this new Staten Island ferry service, we're doing our part to get New Yorkers back on their way and providing a new and faster commuting option to some of the city's hardest-hit neighborhoods and making that daily trip to work or school easier and faster."
After all, even on a regular day, getting to work from Staten Island is not easy, as Councilman James Oddo points out. "Staten Islanders have some of the most difficult commutes in the nation, so adding this transportation alternative is welcome news," he said.