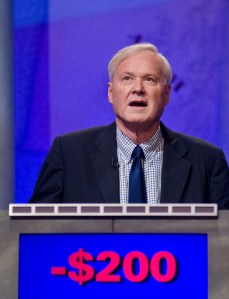 Hardball host Chris Matthews is facing the wrath of Staten Islanders affected by Hurricane Sandy after he said he was glad the storm occurred on the air.
During his election night wrap-up on Tuesday, Mr. Matthews said it was "a good day for America," and added, "I'm so glad we had that storm last week." After Rachel Maddow, who was seated next to him, gave an audible "ooh," at his choice of words, Mr. Matthews countered, "No, politically, I should say–not in terms of hurting people. The storm brought in possibilities for good politics."
According to the Staten Island Advance, Mr. Matthews' remarks didn't go over very well with New York City's least-populated borough, which suffered a majority of Hurricane Sandy's fatalities in the city.
Borough President James Molinaro, for example, told the publication it was "a stupid statement from a stupid person."
While State Senator Andy Lanza fumed, "It is insensitive, distasteful and wrong, to say the least, that an MSNBC commentator would politicize a national tragedy like Hurricane Sandy."
"Most people are safe from Sandy's aftermath… but I'd recommend Mr. Matthews avoid our neighbors in Tottenville, South Beach, etc…. for safety reasons, of course," Assemblyman-elect Joe Borrelli suggested on Facebook, citing two of the hardest-hit neighborhoods.
Mr. Matthews would later apologize for the remarks, writing, "To clarify – I was thrilled at the cooperation between the President and state officials that made the country proud. Great bipartisanship."
"I said something bad about something bad when I should have said something good," he profusely added on Hardball last night. "I've heard from members of my family, members of my own family, who live near the areas hit, they don't like what I said any more than a lot of other people like it. Please believe me, I'm determined to do what I can to try to help the people who have been hurt enough and are suffering enough hardship without hearing stupid stuff from me."
[youtube http://www.youtube.com/watch?v=wBHfhkFtio8]