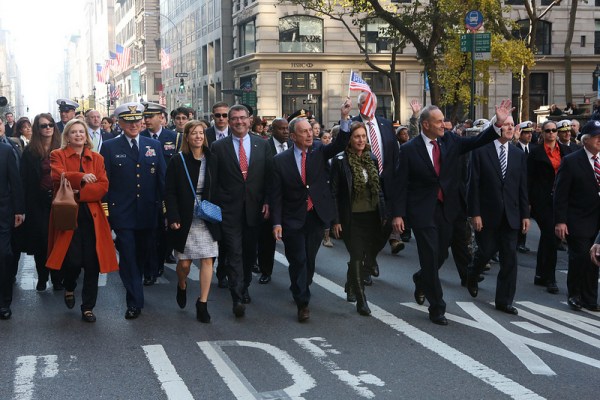 While some employees may have off for today's Veteran's Day holiday, others have become veterans of the post-Sandy recovery effort.
Along with the traditional New York City school closings, several of the City's offices were closed on Monday, such as the Department of City Planning and the Landmarks Preservation Commission, as might be expected on a federal holiday. But for offices dealing with the ongoing recovery effort from Hurricane Sandy, the holiday was just another day of trying to restore power, heat, and hot water to those still without it, another day to clean up and safeguard New Yorkers ravaged by the storm.
The Office of Emergency Management has been functioning nonstop since before Sandy made landfall two weeks ago, and that goes for today, too. "It's 24 hour shifts around the clock no matter what day it is," OEM spokeswoman Nancy Greco said. The New York City Housing Authority said in a statement that recovery efforts "are moving forward without regard to the holiday. NYCHA has maintained sufficient frontline staff and contractors to continue recovery efforts without interruption."
The Department of Sanitation's workers also are working, though they would normally be given the holiday off. Many of New York City's Strongest removing storm debris and catching up on recycle service which resumed yesterday. The Department of Buildings has also continued inspecting buildings on Staten Island with its full force of inspectors in spite of the holiday. Firefighters were at their normal levels of staffing with additional workers aiding the Hurricane Sandy recovery.
Other city departments have returned to normal after working long hours during the immediate Sandy aftermath. The NYPD is allowing any officers and workers who are veterans to take the holiday off of work. Then again, the Police Department does not normally get off for the holiday, so this is mostly business as usual.
The non-holiday extended beyond government offices. Chris Olert, a ConEdison spokesman said that the nature of the utility company means that people are constantly working no matter the day—but today they are working even harder than normal due to the holiday, with almost no one getting off. "Are there 14,000 people here?" Mr. Olert said. "We have 14,000 working at ConEdison. It's pretty close to that today because of the restoration work." A spokesperson from the Long Island Power Authority said that LIPA's workers, including over 10,000 linemen and tree trim crews, were "all hands on deck."
The extra manpower is necessary as, even two weeks after the original wallop of the storm, thousands remain without power. ConEd announced Monday morning that it was wrapping up power restorations to customers who were not in flooded areas of Brooklyn, Queens,and Staten Island. Some 16,000 ConEd customers are still without power throughout the city.
LIPA reported Monday morning that 28,000 customers outside of flooded areas, mostly in Nassau County, remained without power while 46,300 were powerless in flooded areas of the Rockaways and Nassau and Suffolk counties because of the need to survey flood damage in the buildings.
So maybe in addition to saluting our veterans today, New Yorkers might also want to take a moment to celebrate the heroic efforts of all the city employees who are out there helping us recover. No doubt they've all developed their fair share of war stories.