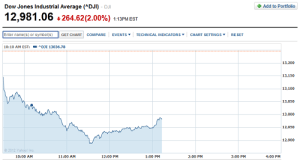 The stock market plummeted in morning trading the day after President Barack Obama's re-election, with the S&P 500 falling 1.9 percent and the Dow Jones Industrial Average both down 2 percent.
Those numbers, however, may not be a ringing indictment of President Obama's second term: according to Bespoke Investment Group (hat tip to Sam Ro at Business Insider), today's losses appear to be an amplification of a recent trend:
In a note to Bespoke Premium clients yesterday, we looked at the performance of the S&P 500 on Presidential Election Days and the day after since 1984 when the equity market was first open for trading on the day of Presidential elections.  What we found was that while the day of the election has historically been positive for stocks, the day after has been notoriously weak.
U.S. stocks have lost an average of 0.9 percent on the day after presidential elections since 1984, according to Bespoke. And while today's market tumble exceeds the average losses, they're not as bad as the day after the president's election in 2008, when the Dow Jones fell 5 percent on the day after, its worst post-election day performance since 1900.
The second and third worst day-after markets? Stocks fell 4.5 percent after Franklin Delano Roosevelt's 1932 election, and 3.8 percent after Harry S. Truman's re-election in 1948.