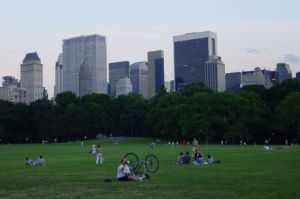 New Yorkers have had four whole days to enjoy the city's parks system after days trapped inside during Hurricane Sandy. We hope that was enough time to fully recover from cabin fever, because the parks department has announced that it is closing all city parks tomorrow at noon.
Worried that the approaching Nor'easter will knock down precarious branches, the Parks Department has decided to shut the public out of the parks until Thursday, Nov. 8 at noon. Of course, if the storm leaves extensive damage to the already branch and leaf-strewn parks, that re-opening time might get pushed back.
While a day without parks access doesn't sound so bad on the face of it (who but dogwalkers and hardcore exercise buffs venture into the parks during driving rains and high winds anyway?) it comes on the heels of five days of closures following Hurricane Sandy.
As skies cleared after Sandy, New Yorkers flocked to the parks only to be turned away by barricades, yellow tape and parks department employees. Not everyone heeded the warnings: The Observer spotted scores of scofflaws in Brooklyn parks last week. With volunteer work days, most parks reopened at 8 a.m. Saturday morning, although sections remain closed off and the sounds of wood chippers whirring has become the musical accompaniment to many a morning run.
Now the parks-deprived public must stay on the sidewalks for the sixth day in two weeks.
kvelsey@observer.com