Rare miss,
Bon Appetit
. File under: Sweet Potato/Yam, Fish
dgrantobserver
"I never heard of barbecuing a turkey, a matter of fact I wouldn't even tell anyone we barbecued the turkey, because everyone else did normal turkey, but not the Fieri's. We barbecued it," Guy Fieri nonsensically told ABCNews. But wait, it gets worse!
One dish that has been a huge hit in his home kitchen and in his restaurant, Johnny Garlic's, is the "Tequila Turkey Fettuccini Alfredo." "It's kind of a traditional fettuccini Alfredo sauce done with some fresh roasted turkey, some jalapeños, some garlic, deglazed with a little tequila, hit a little bit of cilantro and heavy cream. It's dynamite," he said.
dgrantobserver
We were with you until you combined the words "Sushi" and "Thanksgiving." Mashed potatoes have no place on the High Line or a hand roll. Photo via
Inhabitat
dgrantobserver
Sorry, after watching
this video
, we couldn't resist. Via Buzzfeed
dgrantobserver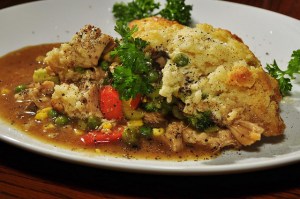 While New Yorkers have created a lot of great holiday meal traditions–that whole "Chinese food on Christmas Eve" thing was totally ours–Thanksgiving has always been sort of a hodgepodge. If New York is a melting pot of culture, we might need a little more salt when it comes to figuring out how to take the Thanksgiving meal from home and transport it here.
Or we can just give up and order a turkey from Trader Joe's.

Either way, the whole Middle Eastern-fusion TexMex Chesapeake Vegan Thanksgiving thing isn't going to cut the cranberry sauce this year. Meditate on some of these New York-inspired (or -created, or whatever) dishes and think about how you … well, how all of us could be putting a little more effort into this whole holiday instead of annually fleeing the city and going home to mommy.