This afternoon, just as comptroller and likely 2013 mayoral candidate John Liu appeared alongside Mayor Michael Bloomberg at a press conference discussing the post-Sandy state of the city's finances, legal arguments got underway this afternoon in the trial of his supporter Xing Wu "Oliver" Pan and his young campaign treasurer Jia "Jenny" Hou, who are being accused of participating in a conspiracy to direct illegal contributions to Mr. Liu's war chest. In the courtroom today, Judge Richard Sullivan rejected four pre-trial motions requested by Mr. Pan and Ms. Hou's attorneys and ordered the trial to begin as scheduled February 4. 
The first motion argued before the court this afternoon was presented by Mr. Pan's lawyer, Irwin Rochman. He said the case against his client should be dismissed entirely due to "outrageous government conduct," namely that FBI agents continued their undercover investigation of Mr. Pan though he said they should have known "Mr. Pan had no interest in engaging in a violation of campaign finance law." He based this argument on the claim wiretap recordings indicate Mr. Pan repeatedly told an undercover agent who posed as a Houston businessman eager to have funds in excess of the maximum allowed amount funneled to Mr. Liu through a system of straw donors about Mr. Liu's campaign "self-imposed limit of $800" on contributions. Mr. Rochman also said his client had been "terrorized" by law enforcement agents who subjected him to an "ominous vague threat" by indicating they knew the whereabouts of his wife and children. The lawyer said this was especially traumatizing to Mr. Pan because he spent his "formative years" in the "totalitarian regime" of the People's Republic of China.
Judge Sullivan indicated Mr. Rochman's motion had no legal precedent and said he felt like he was being asked to rule based on "squishy stuff in the pit of my belly" rather than the rule of law.
"This is a court of law, not a psychiatrist's couch," the judge said.
Unsurprisingly given his reaction to the argument, Judge Sullivan ended up rejecting the motion and siding with the prosecution's contention the issues raised by Mr. Rochman did not constitute a violation of due process.
Ms. Hou's attorney, Gerald Lefcourt, was up next. He argued a trio of motions; a request for Ms. Hou to be tried separately from Mr. Pan, another to suppress the search warrant that allowed investigators to seize the messages in her email account (which are central to the case against her) and for a limitation on the scope of the evidence that could be taken from Ms. Hou's electronic messages. Mr. Lefcourt argued the warrant should be suppressed because prosecutors failed to tell the judge who issued it the full story behind a conversation Ms. Hou had with Mr. Pan about a bounced check. Mr. Lefcourt said the case against Ms. Hou heavily rested on the idea she communicated with Mr. Pan about the bounced check from one of the alleged straw donors, however he said the judge who issued the warrant was not aware that Mr. Pan specifically sat down with Ms. Hou to deliver the check and that the donor in question was Mr. Pan's brother. Justin Anderson, one of the prosecutors, responded to this by saying he could not be certain agents requesting the warrant were aware of this fact and, furthermore, that they were only required to present the judge with "facts necessary for probably cause" and not other information that might be "relevant" to the case.
Mr. Lefcourt's request to have the scope of the warrant limited was based on the fact investigators combed through five years of her emails, which he described as a violation of her privacy. Mr. Anderson countered by saying the investigators combed through 20,000 emails and found 1,900 that were pertinent for the case.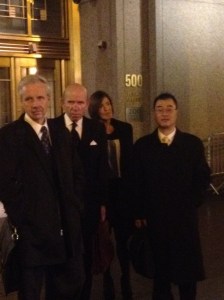 Lastly, Mr. Lefcourt argued the cases against Mr. Pan and Ms. Hou should be tried separately because Mr. Pan's involvement in the alleged conspiracy began far before Ms. Hou's and a joint case would include substantial discussion of things that were not relevant to her case. Prosecutors described these elements as the "background" to Ms. Hou's case. Mr. Lefcourt also said Mr. Pan had admitted guilt and that he acted alone while he was initially cooperating with the FBI (a notion that was refuted by Mr. Pan's attorneys later on when they spoke with reporters outside the courthouse). Because of this Mr. Lefcourt said it would be imperative for Mr. Pan to testify in Ms. Hou's trial and that it would be easier for the court to "compel" him to do so if the cases were kept separate.
When Judge Sullivan ruled, he rejected the notions there were any improprieties in the process by which agents obtained and executed the warrant that yielded Ms. Hou's electronic communications. He also declined to split the cases arguing it was "not clear" Mr. Pan would be any more likely to testify in separate cases. Though he rejected all of the defense attorneys' motions, Judge Sullivan said the different arguments presented by the defense on behalf of their clients "might be very persuasive" when their clients' cases were put before a jury.
"There are lots of good arguments to be made at trial, but I think, in this case, the defendants should be tried together as originally scheduled," said the judge.
After Judge Sullivan made his decision and the participants made their way our of the courtroom, Mr. Lefcourt told reporters he was "very disappointed" the judge did not decide to separate the cases. Mr. Rochman turned to Mr. Lefcourt and said, "We're in this together."
Mr. Rochman subsequently told Politicker he was optimistic about how his client would fare once the case was put in front of a jury.
Outside the courthouse, Mr. Rochman indicated it was highly probable Mr. Pan would testify at the trial. He also said the experience had been extremely difficult for Mr. Pan who had been seen tearing up at one point during the arguments.
Neither Mr. Pan or Ms. Hou were as talkative as their attorneys. As Mr. Pan left the courtroom, a reporter jokingly asked him, "No comment right? As always." He replied with a slight laugh. Outside, we asked Ms. Hou how difficult the experience has been for her. She replied to our query as well as several other questions from the assembled reporters with a simple, "Thank you very much."
The case will resume February 4.