When Hurricane Sandy came ashore, it fell to the city's leaders and the thousands of workers at their command to secure our coasts, to rescue those trapped by water and without power, to help the city rebuild. The Observer spent Monday and Tuesday talking with New York's top public officials about Hurricane Sandy. These are their experiences in their own words.
The Storm
Joe Lhota, chairman and CEO, Metropolitan Transportation Authority: I have an app on my iPad that monitors hurricanes on the East Coast. I have always lived on the water. I always watch the app. So when I first got involved in this—it was long before it even hit Jamaica—I knew when it started as a tropical storm, and a hurricane, and a tropical storm, and then a hurricane again.
Joe Bruno, commissioner, NYC Office of Emergency Management: We follow the weather very closely this time of year as it comes off the tip of Africa, or wherever it develops. This particular storm came out of the southwest of the Caribbean. At 11 a.m. on October 22, we saw a tropical depression. At that point it's just a depression, and you don't know much about it. By 6 p.m., it was upgraded already to a tropical storm called Sandy. It continued to strengthen during the next day, and we kept track of it as it moved across Jamaica.
On Oct. 24, we convened a coastal storm steering committee. That was made up of all the city and state agencies that would be part of any reaction to a coastal storm in New York City. When we do that, it means we see a potential threat to the city. On the 25th, we activated the situation room at OEM, we brought in the Police Department, the Fire Department, the city and state departments of health, the Department of Education, MTA, all the major agencies. We said, "We think this is going to be a big storm and we want to be ready."
Josh Vlasto, communications director and senior adviser, Cuomo administration: We have a National Weather Service representative within our Homeland Security office up in Albany. When they send those emails saying "Potentially devastating storm coming in," it puts everyone on notice.
Ray Kelly, commissioner, Police Department: It was a slow moving storm, so it was on everybody's screen that this storm had a lot of potential but these things are uncertain. We prepared. I think we prepared as well for this storm as any other and quite frankly we had more time because it was a slow moving storm.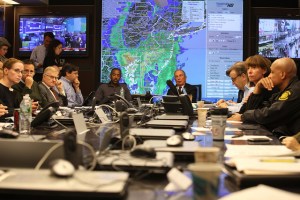 Cas Holloway, deputy mayor for operations: Either Wednesday night or Thursday morning, the decision wad made that we were going to mobilize all the materials and stand up to shelters. And making that decision then, you basically are over the threshold of mobilizing staff, getting facilities ready and doing all that. So at that point, I was already fully committed to the idea that something was going to happen regardless of what the storm did.
Sal Cassano, commissioner, Fire Department: We were getting all of our boats out, getting all of our pumps ready, getting all of our equipment to where we knew we would need them, areas which would be hit the hardest. We would redeploy our equipment to the most vulnerable areas in the A-Zone, such as Staten Island, such as the Rockaways. We kept extra resources in the tunnels, in case the bridges were cut off because of the wind. That way, if the island was isolated we would have enough equipment to handle the calls that we knew we would receive.
Veronica White, commissioner, Department of Parks and Recreation: We sand-bagged everything, every recreation center and field house, every parks facility, everything that could possibly flood. It was all hands on deck, with people working twelve-hour shifts around the clock. We tried to station people near their homes, so they could be safe and still get to work without having to rely on mass transit for the clean-up we knew was coming.
John Doherty, commissioner, Department of Sanitation: Our department faced this like we would fight a snowstorm. That was the kind of plan we followed for where to deploy, what to prepare for. The weather is different, but the job is the same.
Mr. Kelly: We've been in this business for a long time, and we learn from experience. I was a police commissioner in 1992, I guess, when we had that Nor'easter that did a lot of damage. We learned a lot from that storm, from all of these storms and disasters. It's in the details. This administration put in these boats, they're called Jon boats, which is a boat without a motor. They're very shallow. You want to be able to get around on our streets. We had at least one per precinct that was reasonably close to water or had a history of water. Most people if you're on land someplace, you don't think of having boats.
Howard Glaser, director of state operations, Cuomo administration: Really this started a year ago, the day Hurricane Irene ended. Everything we learned from that storm, we realized the system needed a total overhaul.
Mr. Lhota: Given the experience I had a little over a year ago with Irene, everyone was aware of what and how long it took to get our equipment on safe ground. The Transit Authority needed 12 hours for the subways, the buses needed eight hours. With the Long Island Railroad, some of the equipment will snap if the wind gets above 40 miles per hour. That's the last thing in the world you want.
John Rhea, chairman, New York City Housing Authority: Right up until the storm hit, we had cops out there knocking on doors, trying to get people out. We had buses from the DOE and the NYPD, school buses, prison buses, just pulling as many people out as we could. But at a certain point, you know, there's nothing more you can do, and it actually becomes a danger to our people to be out there, so you just have to let them go and hope for the best. If only they had known better.
Janette Sadik-Khan, commissioner, NYC Department of Transportation: You had wind gusts hitting 101 miles per hour. We had not seen that before, and we didn't want anyone stuck on the bridge. We knew we weren't going to be able to get anybody onto the bridge to rescue them in those conditions. So we shut the eastern bridges, and we had crews overnight manning them. I mean, the heroism that went into the people who sat in those trucks all night keeping the bridges closed, and the people manning the ferries all night long as the surges were chest-high in the terminal.
Mr. Vlasto: We were looking at a statewide event, so we had to be prepared everywhere. One, you had the front coming down from the north, potentially hitting the front coming up from the south, so it had the potential to blanket the whole state. The second piece was our experience in Irene. Everyone said Irene was going to be a downstate event focused on the coastline.
Instead, it mostly missed New York City and it was disastrous upstate. We were lucky. We had deployed our national guardsmen in the Catskills and up through the north country so they could be out of harm's way and deployed downstate quickly as needed. It turned out they were exactly where they needed to be. But we learned that these type of storms have to be treated as a statewide issue. The governor visited with security officials and met with them in all the different regions of the state: Nassau, Suffolk, New York City, the Catskills, Binghamton, Albany and up to the north country. We were treating this as something with the potential to be disastrous all over.