The Surge
Mr. Holloway: When the Mayor did his press conference at 11:30 on Monday morning, we had looked at the surge, tracking actual surge values and where flooding was happening, and it was happening on the FDR. I turned to Janette Sadik-Khan, and said, "Look, look at the numbers, I mean, isn't this basically what we saw at the height of Irene?" And that was at 11:30 in the morning. So at that point, that's where I thought, "Well boy, I don't know that we really know exactly how bad the inundation is going to be here."
Mr. Cassano: On Monday we were here all day, planning. It was still relatively quiet when we got a report of a crane on a 90-story building that collapsed. That was pretty much the start of a very, very active and serious night. We had a four-alarm assignment for an incident that wasn't even a fire, so we had a couple of hundred firefighters up there evacuating buildings, and now it's starting to get windy, and now the activity is starting to pick up, and we have all these resources in Manhattan.
Robert LiMandri, commissioner, Department of Buildings: Certainly none of us—including contractors, anyone you talked to—ever expected the boom on that crane to snap back. For me, that was when we started to see the actual power of the storm. I think most commissioners would tell you that it really put everyone on edge. But then as the fire broke out in Breezy Point, the flood surge was coming up and we saw how bad it was past Zone A.
Mr. Cassano: And then we get a fire on City Island, another four-alarmer, and that took a lot of resources up in the Bronx, and that was not even because of the hurricane, it was just a fire, a fire in a restaurant.
Mr. Holloway: When the storm starts to get worse, there's not much you can do. It's like turning an aircraft carrier. What you can do is you can put people on the ground, and you can really encourage people to leave, and you can make sure that you have the capacity to accept them. It just shows that this is a truly life-and-death situation that people need to take it very seriously.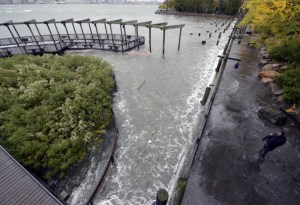 Ms. Sadik-Khan: I live downtown. When I saw the water go all the way up to Washington Street, which is two blocks from the river, and the wind was howling and glass was flying through the air, I had a pretty big 'oh shit' moment right then.
Mr. Lhota: I was on my way downtown to see Tom Prendergast, the head of New York City Transit, who was down there keeping an eye on the subway tunnels at the Batter. I was at NY1, I left NY1, and the West Side Highway was just gone. We headed down 14th street and we couldn't get onto 11th Avenue. It was already at least a foot of water at 11th Avenue. Chelsea Piers will tell you they were completely underwater. So we did a U-Turn and then went down Washington Street and went down as far as we could and then the water was coming up over Washington Street. So the water had gone beyond, you know, had gone up one more block, and in fact the next morning we could see all the debris that was left there. So the surge pushed up and pushed over on both sides of the Hudson. And then it was looking for anywhere, anywhere to go.
Mr. Cassano: We had resources being deployed all over. Once the surge came, we got hit with a flurry of calls. The tide was rising and the wind was knocking down trees. In the middle of all that, we got this fire at Breezy Point, and we had no access to the fire, our apparatus couldn't get down the street. So what the firefighters did was, they went in to evacuate the people out of buildings, get them out of there. We thought we'd take care of the life hazards first and then we would fight the fire.
That was happening in Breezy Point and we were getting a flurry of calls from people in Staten Island and certain parts of the Rockaway who were trapped in their houses, trapped in their attics. We had 30 small boats deployed all over the city and they were being used, our high-axle vehicles—like the brushfire and torpedo vehicles—we were getting them deployed to try and get these people out of their houses in the high waters. By the way, we were also getting those calls from Manhattan and the Battery. That was flooded and the power had gone out, and people were trapped. I don't think anything has overwhelmed the city like that before.
Mr. Rhea: We were watching the television, we were seeing this movie play out in real life, in terms of water gushing in Battery Park, Lower Manhattan, the Rockaways, you name it. Seeing the level of surge, it's rushing into the Brooklyn-Battery Tunnel, knowing that so many of our projects in these low-lying areas, knowing how much water we took on with Hurricane Irene, which was nothing close to this, realizing that most of our mechanicals are subterranean—it was clear we were going to have real problems.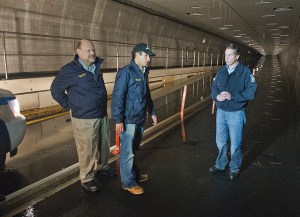 Mr. Lhota: When I got downtown to meet Prendergast, we were looking at where we were, we both realized how deep the water was at South Ferry station. It didn't surprise me when we found out later that the water was all way up to the ceiling. It was four feet above the ground that night. And then we walked over to the Brooklyn-Battery Tunnel, where we ran into the governor totally by accident. I don't know why I went over to the Brooklyn-Battery tunnel. I really don't. We hadn't been told about water rushing in, but we went over there, and boy, what I saw was extraordinary. White-water rapids, and a pace—you could have created hydro power.
I'll use the words that the governor used. It was disorienting. It was. You heard it. You saw it. And you weren't really sure you were hearing it and seeing it correctly. I never expected the Hudson River to do that.
Mr. Vlasto: The governor was standing with Lhota at the mouth of the Brooklyn-Battery Tunnel and the water was rushing in so quickly that the sound was deafening. I think that for him, that was the moment—where the water was that night, when you're down there, standing at the tunnel, there's so much water that you can't hear—I think the governor would say that was the "We Got a Problem" moment.
Mr. Glaeser: It was a sound you never heard before in Lower Manhattan, a rushing river. And then we went over to the World Trade Center and we saw Niagara Falls was pouring into the site. This was no ordinary storm.