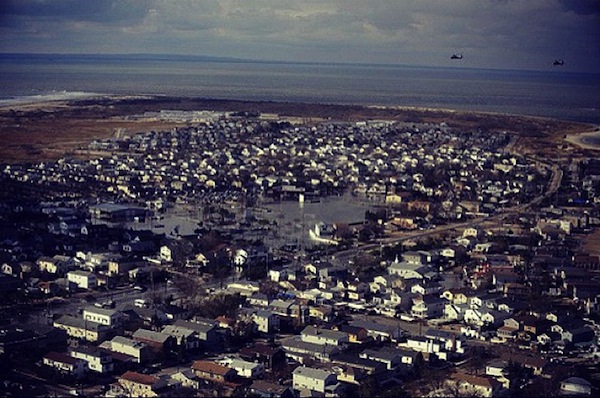 The Flood
Mr. Cassano: We started to get into the buildings that were actually flooded to make some searches. We were still getting a lot of calls from people who were trying to get out of their homes. So we had to use the boats again the next morning. The challenge was to actually assess the damage. We had firehouses that we had to evacuate in the Rockaways and Coney Island, along with a number of EMS stations. We had streets blocked, we had streets still flooded—it was a very difficult operation. It was a mess, and it still is.
Mr. LiMandri: We use a methodology that is used in earthquake recoveries called ATC-45—it's modified because it's not an earthquake, but all the principles are the same. The first path is to do a windshield: to sweep the neighborhoods and try to identify how hard-hit each neighborhood is. With the areas that are hard-hit, we go block by block and then identify those buildings that have some damage. The categories start with green, meaning fine, we don't see any exterior degradation of the façade or foundations. They may have had water damage, but we don't think it is significant. The second is yellow for minor structural damage, major water infiltration that we know could be a concern for the foundation. The third is red, and we found this in many communities in Rockaway and Staten Island, where the building foundation had been compromised to the point where it could collapse or there was significant damage to the structure.
We've tagged 16,000 buildings so far, going back to last Wednesday. We expect to be done by Sunday. There were 400 red buildings so far, but far more are in worse shape. You may have a green building that has been destroyed inside. Structurally, it's sound, that is our first concern, because it is a matter of safety, but everything else is ruined.
Mr. Doherty: There are some areas, particularly in Rockaway and parts of Staten Island, where you had structural damage to buildings and debris came out into the streets from them. Furniture, wall boards, insulation, tile, just about anything that people would have in their basements or on their first floors. It was just piling up everywhere. You'd spend the day, think you'd finally cleaned up the street and you could mark it off your list, and you come back the next day and it's full again.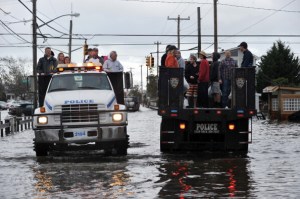 Mr. Vlasto: We were going downtown, the day after the storm, to look around. It was right after or shortly after the streetlights went out, and I was driving down Second Avenue with no streetlights. The sun was just rising. It just sort of sunk in. There were no cops on the street directing , no crosswalk lights to tell people when to stop and go. No lights to block people crossing avenues. It was scary. That was really scary. Because you never knew when you were going to hit people, when you were going to get T-boned. Or if somebody was going to jump out into the street. That was really scary. It's almost better to be driving in than when it's completely open.
Mr. Lhota: The MTA is a very complex organization. You've got the bridge-and-tunnel guys, they had two tunnels down. Not only is the Brooklyn-Battery Tunnel out, which didn't surprise me, but we had water in the Queens-Midtown tunnel. We've never had water in the Queens-Midtown tunnel before—ever. So that was a surprising occurrence. I always knew that the LIRR and Metro-North would have trees down all over the place, but this was hard to believe. And then there was the subway system, which I knew was going to have some water. The reality is that the preparatory work that the Transit Authority did helped in many cases.
Nobody's ever asked why the 4/5 tunnel, the Drummond Tunnel—why did it come back so fast? Bowling Green station is a little higher, and so is Brooklyn where the train comes out. But we also made sure to seal up as much as we could. We moved the trains out and everything was ready to go. More importantly, everyone was ready to go, and they worked nonstop to dig us out, pump us out and get us back up and running. A week ago, when I saw all that water rushing in downtown, I never would have imagined we would be up and running again like this so quickly. Not in that moment, at least.
Mr. Glaser: Coming in with the National Guard on Thursday, carrying food and water with the governor down in Lower Manhattan—we were at the Lexington Avenue Armory with the Food Bank of New York—you don't expect to be doing that in Manhattan. The power was still off. It was just a shift in our expectations of what government is. Just every day, on a regular basis, there were things like that happening every day. Just the sight of National Guard troops in Manhattan. They were on a humanitarian mission, you know, but it makes you realize what a thin thread it can be any time, keeping a society going.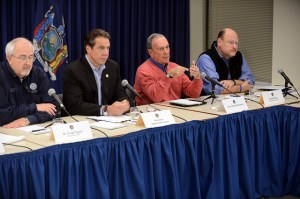 Ms. White: We walked every street in every community board, the entire city, looking for downed trees and other damage. We inspected every park and playground, approximately 1700 of them, and made certain they were safe to open to the public. Now we have about 83 percent open. We've had over 3,000 volunteers come out to help us clean up. And we have hundreds of Parks people in the field documenting everything that has occurred to submit to FEMA so we get back every penny New York is entitled to for its parks.
Mr. Lhota: We heard that a 40-foot boat ended up across the tracks outside the Ossining station. The first thing everyone wants to do is get a picture: "We gotta see this." So we got a picture. And then Howard Permut, the president of Metro-North, and Robert Lieblong, the executive vice president who operates the railroad every day, without blinking an eye they found a piece of machinery in our shop that could lift up a boat. They went to a boatyard and bought the racks and put the boat underneath and lifted it up. They used a train crane to move a boat. It's emblematic of how anything could possibly happen. They just said, "Okay, let's deal with it." And they did.
Mr. Cassano: I spent this weekend on Staten Island helping out a couple of different command centers, and this weekend is when it really hit me to the core, because my sister lives in the area. When I was helping out, I just took a ride down to make sure that she was okay, and they were just emptying the house out. It had been totally flooded. All her possessions were on the sidewalk. And going down blocks and blocks and seeing the same thing in other people's homes, it really hit home how bad this was.
Mr. Vlasto: I think it was Lyndenhurst—this will stick with me—we were walking, and we went to a street and into a house. The governor walks in a house, and this old lady was standing outside the house crying. She had a picture in her hand and she was crying, and she said, "This is my grandson." She said, "I'm so happy I found this picture." She said, "I found it right here." And we couldn't figure it out. And then she said, "But I live four houses down." That was sad. I don't have any happy moments yet. I'm waiting.