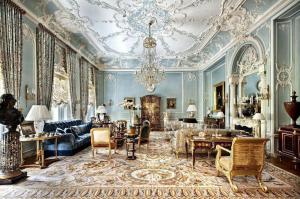 Amassing and connecting a melange of co-op apartments scattered about a coal baron's Fifth Avenue mansion was an outlandish dream, even for Howard Ronson, the commercial real estate developer who kicked off the buying spree at 828 Fifth Avenue, also known as the Berwind mansion, before his death in 2007.
His heirs tried to carry on, but they could never quite replicate their patriarch's acquisitive charms. With four of the nine apartments in hand, they stopped far short of Ronson's goal of total building domination. Nor could they (or would they) sell the spread, at least not for $72 million. After putting the apartment on the market in May, in a bid to catch one of the many over-eager trophy hunters said to be sniffing around New York, the family pulled the property just a few months later.
Several sources told The Observer that Ronson's widow Angelika and children have decided to stay put in their puzzle-piece palace. Or at least as "put" as renowned jet-setters said to spend much of their time in Monaco can stay.
Does this also mean they've decided to carry on Ronson's vision of re-assembling the entire house and returning it to its former glory? As they like to say, in for a penny, in for a pound. Or rather, in for $33.95 million (the amount the four apartments cost the Ronson family), in for $100 million (or more!)?
We'd wager that this clan is not quite so cavalier with its dough and that the decision to pull the property had more to do with a lack of interest. None of the former listing brokers—it was held by Corcoran brokers Sharon Baum, Leighton Candler and Deborah Grubman, as well as Stribling broker Alexa Lambert, returned The Observer's phone calls, so we can't be sure, but we'd say the agglomeration was not so popular with buyers and the family is waiting for a later date to list the individual units.
A $72 million sale would set a townhouse sale record and then some (the largest sale to date remains the $53 million dollar sale of the Harkness Mansion). The co-op record lingers at the same threshold, having been set this spring with the sale of the Courtney Sale Ross apartment for $52.5 million. And no matter how magnificent this corner mansion might have been, the units weren't even attached. After all, an ultra high net townhouse lover would probably be inclined to go for the intact Woolworth Mansion, listed at $90 million, rather than bribing/begging his neighbors to move out and then undertaking a huge renovation.
"I'm sure it couldn't be bought," one broker not associated with the listing told us. "For god's sake, it was a lot of different units."
kvelsey@observer.com