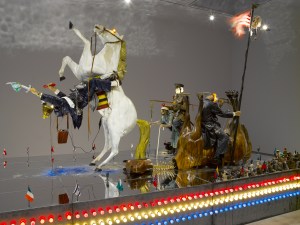 WITHIN A YEAR OF MEETING, Edward and Ms. Kienholz had moved their children from different marriages in together and left for West Berlin.
"Back when East and West really meant something," Ms. Kienholz said. "Like when the KGB was the KGB. And there we were."
Edward had just finished the notorious Five Car Stud, one of the last works he'd make before beginning his collaboration with his wife. The piece is a life-size installation, exhibited on a dirt floor, of five men wearing Halloween masks. They're carrying guns and knives, pinning down and castrating a black man while his white girlfriend vomits in a nearby corner. It is illuminated only by the headlamps of the five cars that encircle the scene. It was shown inside an inflatable dome at Documenta 5 in Kassel, Germany in 1972, and twice right after that, but until an exhibition at LACMA last year, had not been seen since 1973. For years, much of what the public knew of the piece was gleaned from a few blurry black-and-white photos taken from a distance by Mr. Hopps. The work was purchased by the Kawamura Museum in Sakura, Japan, but as it went through customs, the officials took chainsaws to it, removing the guns. It languished in storage for 40 years until Peter Boris, the executive vice president at Pace, working with L.A. Louver, sold it to the Prada Foundation in Italy, after a months-long restoration by Ms. Kienholz.
"It has a mojo to it," she said. "Ed bought all the masks at the Hollywood Magic Store. And he was buying a whole bunch, and the owner left the room and called the police, because he thought, 'This guy's up to something.' And the police came in and looked at him and said, 'It's just Ed. He's okay.' So instead of wearing hoods like they were KKK, they wore these masks."
It's an eerily domestic detail, a kind of everyman's racism that also buffers the palpable terror of the scene with a more campy, drive-in horror movie vibe. Mr. Cohan helped pull the engines out of the cars, and was also asked to model for the plaster cast of the man doing the cutting, but declined.
"But I asked Ed, 'What are you gonna make the cock out of?'" he recalled. "And he said, 'I'm gonna use the hardest steel I can find. If someone wanted to cut this thing off, they'd have to take a sledgehammer and a chisel, and then they'd probably have to burn it off, because I'm gonna cover it in fiberglass.'"
When Edward began working with Ms. Kienholz, the pieces became more self-assured, stronger in a physical sense. He was known for being a highly skilled craftsman, and his wife matched his abilities. (He also had a reputation as a staunch perfectionist. A bent nail would cost you your job.) They were building houses and making art together and churning out work like The Art Show (1964-77)—a caustic re-creation of an art gallery in which everyone inside has a face made of different kinds of hot air vents—and Sollie 17 (1979-80), maybe the only Kienholz work that feels sentimental. It features a group of men living in the squalor of a single room occupancy hotel, their glum faces cast in literal frames as they go about their business casually.
Their whole operation became a family affair. When they finished building the large triangular base on which the figures rest in The Ozymandias Parade, the Kienholzes invited their friends to their home in Hope and used it as a table for a dinner party. The general is a cast of Ms. Kienholz's father, their friend and collector Monte Factor posed for the president, Bill Chatham, Edward's son-in-law, is the vice president, and the overtax payer is a cast of Edward's mother (who insisted the figure be labeled "overtax" and not just "tax"). The work is currently for sale, if you could imagine a place to put it, for a price that sources believe to be in the $5 million range.
The Kienholzes' work became such a major part of their lives that when Edward died at the age of 66, Ms. Kienholz buried him, embalmed and sitting upright in a Packard coupe, which she drove into a big hole dug near their home in Idaho. Edward's gambling buddies came and threw dollar bills into the grave. When they were starting to dig, one of her assistants said he had to run home and get a transom because the hole needed to line up perfectly with the house; "Ed would never forgive me if it was crooked," he said. Ms. Kienholz had promised her husband she would do all this and made good on her word. "But I put him in the passenger seat," she said. "I just couldn't imagine going through eternity with him driving."
mmiller@observer.com