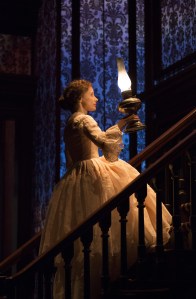 A great play deserves more than the mediocre revival The Heiress is getting at the Walter Kerr—and it's too bad Walter Kerr is not around with a few well-chosen words to say so. It's a great favorite of mine, adapted by Ruth and Augustus Goetz from the novella Washington Square by Henry James, and it's nice to see how well the story holds up, even in a dull and dismally miscast production like the one currently on view. If you want to see perfection, drop in at the Paley Center and check out the "live" 1961 CBS-TV production with Julie Harris. You won't see anything of that quality in the lackluster and utterly predictable version here. 
This, of course, is the powerful story of a wealthy and privileged but lonely woman, emotionally abused by a cruel, heartless and implacable father, at last brought to life by the first blush of romance, then betrayed by the fortune hunter who wins her heart, and finally hardened by bitterness into the status of a vengeful old maid. Catherine Sloper, the starring role in The Heiress, like Blanche DuBois and Hedda Gabler, has always been a magnet for actresses. The great Wendy Hiller had a personal triumph in the original Broadway production in 1947, Dame Peggy Ashcroft was the toast of London, and Olivia de Havilland won an Academy Award for the distinguished 1949 film by William Wyler, which has become something of a cult classic. Julie Harris remains my personal favorite in the role, but Jane Alexander scored her own success in the 1976 revival, as did Cherry Jones in 1995. No similar crown of laurels deserves to be bestowed on the fledgling movie actress Jessica Chastain, who works diligently as the new reincarnation of the ill-fated heiress of Washington Square, but to little avail. Without the stage experience to bring Catherine to three-dimensional life, she wafts across mahogany floors past Derek McLane's fussy, oppressive and very old-fashioned rust-colored brocade curtains and velveteen wall fabrics under massive crown moldings—the perfect embodiment of a velvet tomb—as if she's waiting for a camera angle, or the kind of forceful guidance nobody ever gets from the wooden director Moisés Kaufman.
She is not alone. With the exception of Judith Ivey as Catherine's giddy, gossipy, clucking Aunt Lavinia, always encouraging in others the joys she's never found for herself, the entire cast rarely rises above community-theater standards. As much as I have admired David Strathairnelsewhere, he never brings the role of Dr. Austin Sloper to life. He never forgave Catherine for her beloved mother's death in childbirth, so he raised his daughter to believe she was a drab, socially awkward failure, ignoring her pain and oblivious to her desperate need for affection. In his disappointed eyes, she could never live up to his late wife's beauty and grace. Mr. Strathairn has a bizarre uncertainty about who Dr. Sloper is and what he feels; one minute he's concerned for Catherine's welfare, the next minute he's stripping her dignity and self-confidence to shreds. How one misses the arrogance, selfishness and overwhelming electricity of Ralph Richardson's stern patriarch in the film. Dr. Sloper has so little faith in his daughter's ability to attract a suitable mate that when she meets a handsome, charming suitor named Morris Townsend, he becomes instantly suspicious of his motives and cuts off the engagement. With the bland Dan Stevens as Morris, you can hardly blame him. This cardboard blond from the TV series Downton Abbey is no Montgomery Clift, but he's no Morris, either. Morris is an impecunious bachelor, always described as "dashing and suave," but Mr. Stevens, gesturing wildly with his hands on every verb, shaking his head like someone with palsy, and hiding his British accent behind a clumsy American cadence, comes off as little more than a callow amateur. Monty Clift played Morris in the film with more subtlety, and therefore more danger. Mr. Stevens doesn't present much of a challenge.
Ms. Chastain, who was memorable in The Help, is out of her element here. Deserted on the night of her elopement after Morris overhears her refusing her father's inheritance, the roses in her cheeks flushed by desire wilt fast, and she closes herself off like a metal lockbox. Two years later, when he returns, broken and needy himself, Catherine has turned frosty and cynical. Now it's her turn for revenge. In the play's most haunting and heartbreaking scene, she draws the drapes, turns out the lights and slowly climbs the stairs, ignoring Morris' futile knocks at the beaded glass doors. Every actress I have ever seen in this scene sent a chill down my spine that stayed there. In this production, I was completely unmoved. Ms. Chastain is too attractive for the part (hard to believe she couldn't find a boyfriend, even in 1850). She's made-up to look plain as a potato, right down to the severe hairstyle, but so lovely (cheekbones for days) that she fails to make convincing the transitions from a brave, hopeful girl on the threshold of love to weathered, pallid, steely-spined spinster. They're all playing the text, but not the subtext. They say the words in the careful, precise script, but there is no richness in the sound, no discovery in the characterizations, and with the exception of Judith Ivey, no vocal energy. Mr. Kaufman's direction, like the acting, is shallow, external and mystifyingly lacking in passion.
The Heiress is classy material, the kind of skillful and well-structured drawing-room drama that is a rarity in these days of empty "concept" theater. It's still a first-rate play—refined, intelligent and well worth seeing again—even when it's poorly served by a second-rate production.
NOTHING BLAND ABOUT The Whale, a depressing slice of in-your-face intensity at Playwrights Horizons starring Shuler Hensley. Maybe you remember his Tony Award-winning performance as gloomy, doomed Jud Fry in Oklahoma! A celebrated opera singer with an international reputation, he can also act. In the most punishing role of his career, he plays Charlie, a 600-pound artery explosion waiting to happen, with a blood pressure of 238 over 134, literally eating himself to death. In what is clearly a performance equally dynamic and horrifying as Daniel Everidge's autistic 18-year-old in the dynamic play Falling (which has now resumed performances down at the Minetta Lane Theatre in West Village), Mr. Hensley is not to be missed for pure shock value.