Southern life has its charms, but then, as Kathryn Stockett well knows, it's not all courtly manners and quaint customs. Ms. Stockett, who grew up in Jackson, Miss., and wrote the feel-good literary juggernaut The Help, is probably more immune to said charms than most. So it comes as no surprise that she has picked up an ancillary apartment in the East Village to supplement her full-time abode.
The Atlanta resident dropped $1.25 million on a one-bedroom, one-bath co-op at 119 East 10th Street, according to city records. And what better way to spend one's publishing spoils, particularly when one has spent years working in the chronically underpaid magazine publishing industry? (Note to self: start work on heartwarming novel that will be made into a major motion picture.)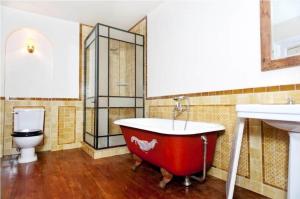 At just over 1,000 square feet, Ms. Stockett's spread will not require an extensive staff or any staff at all. Whether by accident or by design, she need never suffer the awkwardness of a domestic assistant (particularly one who has read her novel). At least, not unless she wants to.
The apartment is small but versatile, with a possible second bedroom/study. It also has lots of old-fashioned prewar charm, with amenities that any magazine underling dreams of but never dares to expect: two wood-burning fireplaces, original wide-plank floors, a Miele dishwasher and "a garbage disposal!" as the listing, held by Corcoran brokers Meris, Kenny and Sydney Blumstein, exclaims.
What's more, the bathroom is not only a good place for cleaning ears and clipping toenails, but it will "transport you to Italy." Really?
In real life, Ms. Stockett appears to be as spunky as her heroine Skeeter. While the apartment was listed as a $6,000-a-month rental, she managed to persuade owner James Iha that it was time to sell. Not altogether unexpected from a woman whose now-famous book was rejected by 60 literary agents before landing one who pushed it on to a publisher.
kvelsey@observer.com