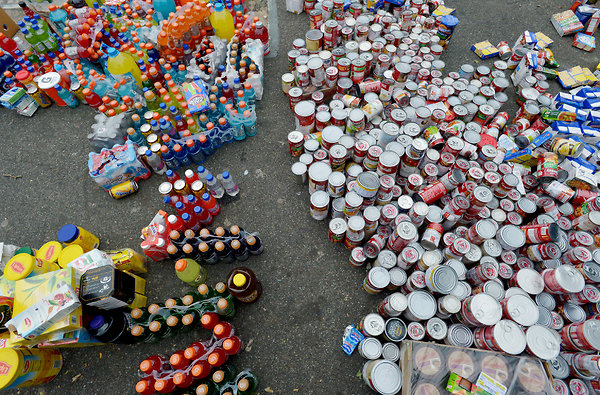 Just before Hurricane Sandy hit, everyone was busy stocking up provisions to weather the maelstrom. Following the storm, there was a scramble to to find more to eat as stores were empty and restaurants closed. This is a city of gourmands, after all. For the city officials who were responsible for guiding the city through the disaster, this was no exception.
While we were compiling our oral history of Hurricane Sandy, Joe Lhota mentioned that even in the worst of the storm, he had managed to keep his daily dietary regimen intact. This got us wondering: what was everybody eating while they scrambled around getting the city ready and helping it recover? Here is what the protectors and providers of the city had on their plates and in their pockets.
Joe Lhota, chairman and CEO, MTA: Even in the middle of the storm, I had what I always have—an omelet with two sausage patties. It's what I eat every morning. Would that be a cheese omelet? Is there any other kind? I don't put shit in them. Who needs onions in the morning? It's all protein, no carbs for breakfast, and that's the only thing I eat until dinner time.
Ray Kelly, commissioner, NYPD: He eats two patties a day, huh? Jeeze! He eats that stuff? I'm trying to eat egg whites. I had those Dunkin' Donuts egg white things, the sandwiches. I've had several of those. But I won't have anymore for a while.
It's funny because you take food for granted. I'm out riding around, and a place is closed, lots of places to eat are closed down. When the subways are closed, the restaurants are closed because they can't get their workers in there. It's something that is driven home sort of dramatically when you drive down Columbus Avenue, you think, "Hey there's no flooding here." Yeah, but they can't get their workers to work. Food suddenly became much more of an issue.
Sal Cassano, commissioner, FDNY: I think I ate a granola bar for dinner the night of the storm, and that was it.
Janette Sadik-Khan, commissioner, NYC DOT: I've been eating a lot of granola bars, a lot of granola bars. And they serve peanut butter sandwiches at every relief station, so between the granola bars and peanut butter and jelly, that's it. Fortunately I walk up and down the stairs at home and work, and when you're out all day in the field, I hope it won't be too damaging.
Josh Vlasto, communications director, Cuomo administration: I don't want to sound complain-y, but when you're on the road, we haven't been eating that much. On the days when you're doing four or five stops, you leave at 10 in the morning and your don't get back to the office till 4 in the morning. It's a lot of granola bars and bottled water that you pick up. But people have been ordering pizza. But nothing has been open. Lots of granola bars, lets put it that way. It's a lot of throwing granola bars into the jacket and munching along the way.
Joe Bruno, commissioner, NYC OEM: Well I didn't eat that much. I mean, we do feed people here, so I'm a big salad person. If I can get fish I'm very happy, but we didn't get much of that. Mainly salads, a little bit of rice and little bit of bread. But I'm a skinny guy. I don't eat that much. There was pizza. I don't eat that stuff, but some of them do, unfortunately.
Cas Holloway, deputy mayor for operations: I was at OEM, and my hurricane diet was coffee. And I had a trail mix that I had that I actually had brought. Store-bought? No, no, I made it, I make my own. I go to this place called Nut Box and I make my own mix, and I had it in a big jar, and I was eating it by the fistful. Will you share your secret recipe? Almonds, cashews and dried apricots, dried cherries. And a little bit of coconut flaked shavings. It's quite good.
Howard Glaser, director of state operations, Cuomo administration: Coffee, Coke, bagels.
John Rhea, chairman, NYCHA: I had a couple boxes of Ritz crackers that I was running around with, a bunch of bottles of water, and I had some spaghetti that I made with a little sauce. That tasted just as good cold, but it was even better if it was room temperature.
Robert LiMandri, commissioner, DOB: I didn't eat very much all week. I remember having chicken soup on Monday, and that was probably the last time I ate for two and a half days. I didn't have an appetite, standing down there, watching that crane.