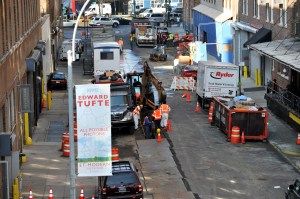 Today started out with some bad news about Chelsea: AXA Insurance reported that its gallery customers in the neighborhood lost at least $40 million worth of art as a result of Hurricane Sandy. But now there is decidedly more positive news: more galleries are reopening. ZieherSmith and Jack Shainman, which are both on hard-hit 20th Street, said today that they'll reopen for business tomorrow.
And there's even more good news: the Kitchen, which is on 19th Street and suffered damages that are expected to total around half a million dollars, is finally opening its planned Matt Keegan and Eileen Quinlan exhibition tomorrow in its second-floor gallery space. It had originally planned to open the show on Halloween. (Its first-floor performance space remains closed.) The reception for the show will take place this Thursday from 6 to 8 p.m. There are also yoga classes involved. Full details below:
Two free yoga classes will be held on Thursday, November 29 in the gallery: prenatal at 10:00 A.M. and restorative at 6:00 P.M. Classes are private (gallery closed) and availability is limited (10 spots each). Reserve in advance by emailing voteyoga@thekitchen.org.
Also, Printed Matter, whose basement flooded, is once again open for business.