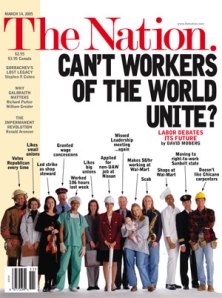 Are you a publicist looking for something to direct? Do you like your opinions liberal and your commentary trenchant? How do you feel about Katha Pollitt? Because The Nation is looking for a new publicity director.
Last night, an email went out to Nation mailing list alerting readers that the magazine is looking for a publicity director to "oversee and implement the publicity and syndication programs for both the print publication and thenation.com." Like all ideal candidates in all job listings everywhere, the ideal candidate for this position will be "detail oriented" and good with tight deadlines.
On the one hand, the fact that the magazine is using their mailing list to get applications leads us to believe that they really are in need of a director of publicity. On the other hand, how better to test a candidate then to see if they can drum up some publicity and use the Internet to promote the magazine?
Job description below:
Dear Nation reader,

Please share this information:

The Nation magazine is seeking an organized media professional to oversee and implement the publicity and syndication programs for both the print publication and thenation.com. The ideal candidate will be detail-oriented, comfortable with tight deadline pressure, possess strong verbal and writing skills, be familiar with the print, broadcast, social and digital media landscapes, possess established media contacts, and have a minimum of three to five years experience working in publicity or communications. Located in our New York City office, the position offers excellent benefits, competitive salaries and a congenial work environment.  Email resume, cover letter and salary requirements to:pubjob@thenation.com. More info here. No calls please.

Many thanks!

All best,
Peter Rothberg, The Nation