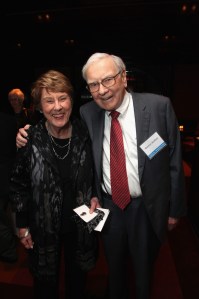 "I haven't read it yet," admitted Goldman Sachs CEO Lloyd Blankfein at Monday's book party at The Lambs Club for Carol Loomis's Tap Dancing to Work, a collection of Warren Buffett's wit and wisdom as published in Fortune over the years. (Mr. Blankfein strode briskly away when the Transom asked his thoughts on the upcoming "fiscal cliff.") "I'm looking forward to reading it," allowed Washington Post honcho Lally Weymouth. JPMorgan Chase CEO Jamie Dimon left even before the toast, during which Time Inc. editor in chief John Huey lightly roasted Mr. Blankfein. "I think it's always good to have someone around willing to write a check to save …" Mr. Huey began.
"Never mind, I've already left!" Mr. Blankfein shouted from the crowd.
But Tap Dancing to Work—which will take Ms. Loomis (a Fortune writer since 1954) on a tour of The Daily Show, Charlie Rose, and Today—is sure to find an audience among those seeking the wisdom of "The Oracle of Omaha," or an extremely WASPy Christmas present.
"I think it's mainly for serious investors, and young people will give it to their fathers, wives will give it to their husbands, and some people will buy it for themselves," Ms. Loomis said.
Ms. Loomis is both friend and fan. The pair's meeting back in 1967 was auspicious. "He was an unknown," she explained. "What I saw was that he was just about the smartest man I'd ever met—and I know a lot of smart men." She notes in the book's preface that she wouldn't have found it appropriate to have written a biography of Mr. Buffett, given the pair's long-standing relationship. (She is an investor in Berkshire Hathaway and writes the company's letter to stockholders, while covering Mr. Buffett for Fortune.) She told the Transom that she had never invested in a way that would contradict Mr. Buffett's teachings. "I really never have. Once I had the opportunity to learn from him, I have never not followed his advice." The two play bridge together as well. Asked who has the upper hand, Mr. Buffett told the Transom: "We're about the same."
Ms. Loomis later admitted, in a brief speech to a crowd that included CNBC's Becky Quick, The New York Times's Andrew Ross Sorkin and Reuters's Felix Salmon, that she'd misspelled "Buffett" in print in an early article. "I thought she was so infallible, I'd spell it whatever way she wanted," Mr. Buffett quipped.