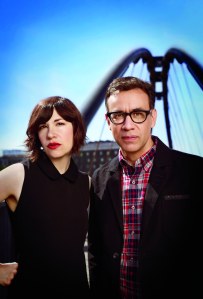 The third season of everyone's favorite IFC comedy-sketch show is fast upon us, with Portlandia slated to begin on January 4. In advance of the inevitable onslaught of new hipsterisms, hereto-unknown eccentricities and brand new organic fetishes, The Observer cornered co-creator Fred Armisen about what new "dreams of the Nineties" he would bring to life.
First among them is an appearance by No Doubt, the very ska-tastic Cali band that brought us Gwen Stefani before she turned all L.A.M.B. He would not divulge how Mrs. Gavin Rossdale and her cohorts would be featured in the show, but one might assume they will not be going Navajo. The Brooklyn-based band The Dirty Projectors will also be featured in the coming season.
Another newcomer to the show will be Chloe Sevingny. Ms. Sevigny recently guest starred on the third season of Louie–closing her act by unabashedly masturbating in a coffee shop, sitting next to a flustered Louis CK.
Ms. Sevigny will play a roommate to Carrie and Fred, Mr. Armisen said, as they are looking for something to "define their relationship a little bit more." The dynamics of a third wheel crush perhaps?
"I'll just say this, she causes a rift in the relationship, she kind of causes some problems in our friendship," he said. But he stops to check himself, "I wouldn't even describe it as problems, she kind of challenges their friendship."
Fans can also look forward to a Christmas special, "Winter in Portland," to air on IFC on December 14.
As a precursor to all the excitement, a travel-book based on the show was released on November 13th. Co-authored by Mr. Armisen and Ms. Brownstein, Portlandia: A Guide for Visitors, is intended as something of a keepsake for the fans.
"It was almost like going deeper into the stuff that already exists. Little things we couldn't really do on the show," Mr. Armisen said about his experience writing the book.
By way of an example, he refers to Candace and Toni, the women who own a feminist bookstore ('Women & Women')–which has had visitors like Aubrey Plaza, Heather Graham and Steve Buschemi in the past–on the show. Expect to find a 'fem-zine' insert, made by Candace and Toni, in the book. "When you look through that, you get a sense of who they are, it's like their little book, it's got their voices," he said.
Putting the book and the third season together caused Mr. Armisen to reflect on what exactly he and Ms. Brownstein have tapped into with the show.
"The show is actually about people, it's about trends, it's about cities in general, and I am not just talking about living in the United States. I travel, and these communities exist in places like Sweden and England," Mr. Armisen told The Observer. "It's almost like Portland is sort of like, the book cover, it's the wooden frame around it."
Before letting Mr. Armisen get on with his busy schedule, The Observer just had to ask the SNL veteran if there was one personality he was itching to impersonate on the late night show. "I haven't done Bill Maher yet. I just haven't figured out a way to do a sketch about him," he said, adding that he was a fan of Mr. Maher's.
Nsharma@observer.com