It's auction time again in New York—between this week and last, around a billion dollars of modern and contemporary art is on offer at Christie's, Sotheby's and Phillips de Pury & Co.—and so it's tempting to start griping about money's corrupting influence on culture. But another option is to revel in the sheer number of top-quality artworks on view around the city. The auctions themselves bring out pieces that have been hidden away for years, and in many galleries, particularly those on the Upper East Side, dealers put on museum-style exhibitions, readying themselves for the heavy-hitter international collectors who fly in from around the world. Three shows on view right now comprise a happy art-historical coincidence: all of them are devoted to artists (Andy Warhol, Cy Twombly and Richard Serra, respectively) who helped forge the look and feel of postwar art in America while showing at the Leo Castelli Gallery in the 1960s and '70s.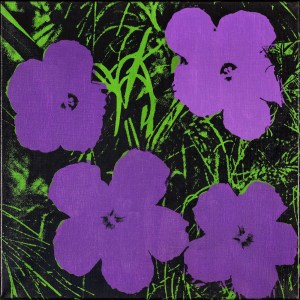 The Warhol show, at Eykyn Maclean, blossoms with 49 paintings from the artist's "Flowers" series—each one silk-screened with an iconic image of four puffy, anonymous blooms looking flat against a patch of grass. Since Warhol made the first one in 1964, the image has become so firmly stitched into the fabric of American pop culture that it feels wonderfully uncanny to be confronted with so many of the real things in one place. The show's centerpiece is a grid of 16 two-by-two-foot paintings—64 total flowers in a hypnotic selection of colors.
The "Flowers" series began during the summer when Warhol was preparing for his debut at the Castelli Gallery, art historian Michael Lobel tells us in his superb, expansive catalog essay for the exhibition. Up to that point, Warhol's paintings had focused predominantly on consumer culture and political strife, silk-screened with Campbell's Soup cans, Coca-Cola bottles, electric chairs, car crashes, race riots. The rambunctious Met curator Henry Geldzahler claims to have stopped by Warhol's studio one day and said, "Andy, maybe it's enough death now," and then showed him a page in Modern Photography magazine that had a photo of flowers printed four times with different color variants.
One wall features a reproduction of Warhol's notations on that magazine page. He cropped the image of seven flowers down to just four to create a square, and added a note to his silk screen maker, asking him to do just half the contracted labor, since he did not have enough money for the full job, an irony considering the tens of millions that his pieces now fetch at auction. (One 1965 work on linen appears to have been made with two separate screens.) Warhol also asked an assistant to run the image through a photostat machine to wash out details, creating a ghostly template of flowers that he and his assistants could alter with color.
But what was Warhol really up to with his "Flowers"? In one sense, he was shifting very obviously from charged, often political critiques to the seemingly decorative work that would exasperate critics for the next two decades. "They look like a cheap awning," he told Newsweek gleefully. "They're terrific!" But as with most things Warhol, there's more going on here. While those Day-Glo colors may be trippy, superficially channeling the hippie iconography of the era, their deadpan starkness is more menacing than joyful.
Midway through the Castelli show, Warhol showed up with a batch of news photographs of Jackie Kennedy taken in the aftermath of her husband's assassination. In light of these, his flowers became tokens of mourning, Mr. Lobel argues, and the Castelli's gallery morphed into a sort of ad hoc shrine. Warhol drained any latent hippie cheer out of the flowers the next year, when he made tiny ones and left out the green grass for a show at the Sonnabend Gallery in Paris. The free-wheeling '60s weren't yet dead, but one of the decade's defining artists seemed to be indicating that the party was over. A year later, the photographer who shot the image sued Warhol. Yes, one of the first-ever copyright battles involving appropriation art—more would pop up periodically over the next half century—was settled out of court.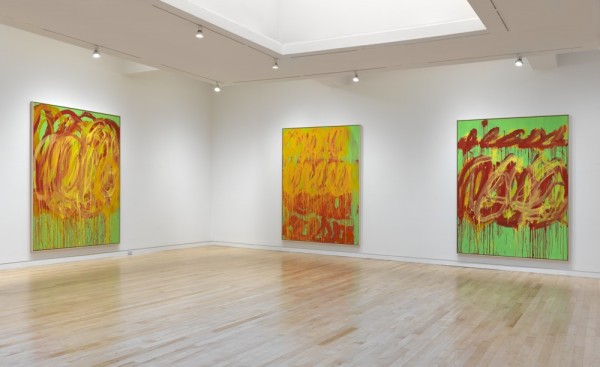 A FEW BLOCKS NORTH, Gagosian Gallery has an exhibition of eight paintings by another postwar master, Cy Twombly, whose solo debut at Castelli came four years before Warhol's. The Gagosian show is a kind of swan song—these big, wildly gestural abstractions on plywood are among the last works Twombly made before his death in Rome last year at the age of 83.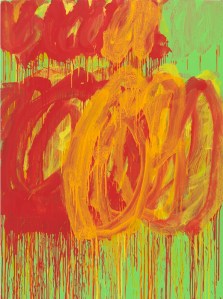 In the last few years of his life, Twombly painted boldly and brashly, channeling just the sort of Abstract Expressionist language that his early career seemed to question and subvert. Each painting has a ground of vibrant mint green, on top of which Twombly, using long paintbrushes, drew tall spiraling lines in red and orange and yellow—like elongated script—that drip wildly down the panel. It's as if he's zoomed in closely on a tiny notation from one of his old paintings and blown it up to gargantuan proportions. These paintings evince a love of pure color, and though they lack the subtleties and risks of his best works—the scrawled phrases, the airy, empty spaces—they certainly pack a punch.
The great surprise in the neighborhood right now comes courtesy of the Craig F. Starr Gallery, which is showing new lithographic drawings on Mylar by Richard Serra. Now best known for his monumental steel sculptures—like those shown at Gagosian last fall—Mr. Serra began his career with smaller sculptures, and had his first solo show at Castelli in the 1970. (Some of his early works are on view at Gagosian, two floors below the Twombly show.) To make the pieces at Starr, he applied lithographic ink to both sides of the transparent paper, sandwiched that between two more sheets, heated the ink, and then worked the top paper with various tools, pressing the ink onto both sides of the central paper.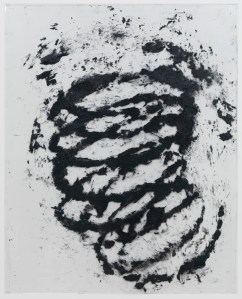 Stripping the outer sheets away revealed what we see in the show: a virtuosic selection of forms dancing across the paper, that seem to be echoed—precisely in some places, loosely in others—on the back of the sheet. (He often picks the bottom side, which he is unable to see while working, as the front of the work.)
Some of these pieces recall Mr. Serra's signature drawings—large all-over fields of deep black oil stick. But with others, like the ones that feature what look like ashy black tornadoes in which bits of the lithographic ink almost seem to hover over the Mylar like smoke, he's nimbly exploring new territory. Those accustomed only to Mr. Serra's intimidating, room-dwarfing sculptures may be surprised at his ability to tease out quiet elegance on a modest scale.
arusseth@observer.com