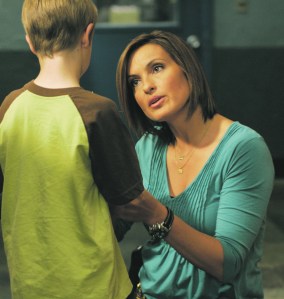 "I just saw Annie, and I didn't look at Daddy Warbucks the way I would have 20 years ago," Warren Leight told The New York Observer over the phone last week. "The show has really warped the way we look at the world, at least those of us writing it."
The showrunner for Dick Wolf's last standing Law & Order program, Special Victims Unit, was struggling to understand how people watch "marathon" sessions of the show he manages. "The children episodes are disturbing, even to us," said Mr. Leight.
He singled out one such episode, entitled "Friending Emily," in which detectives go to an FBI office to view images of abused children. Mr. Leight sounded shocked, tired and a little bit horrified over a detail that he and his writers chose to put in the episode. He sounded a lot, in fact, like SVU's former protagonist, Elliot Stabler.
"There is a kid in diapers whose photo we show," said Mr. Leight. "We found it on an Internet pornography site. It had 37,000 hits in the last four days." (Which, it turns out, is the exact line that a government official says during the episode.)

"I mean, a bunch of us on the writing staff have children," he said. "Nobody really wants to write this stuff. It's dispiriting."
The show may upset its own writers, but Law & Order: SVU has outlasted every other show that Dick Wolf created. It's been two years since NBC nixed the original Law & Order, after 20 seasons. Even after the cancellations of two highly promoted spin-offs, Law & Order: Criminal Intent and Law & Order: Los Angeles (not to mention an ill-fated fourth spin-off called Law & Order: Trial by Jury), SVU is still going strong.
It's one thing to say that violence sells. It's another to say that gruesome sexual attacks on the most vulnerable members of society, children, can power the remaining show in an unusually successful franchise. Even last season, when its ratings were at their lowest, SVU was still the sixth most watched show on NBC, ahead of 30 Rock, The Office and everything else in the Thursday night lineup. At its peak, SVU was able to topple the original Law & Order when they were on the air together.
What's clear: people love watching Special Victims Unit, especially young women and mothers. In fact, since the show launched 13 years ago, females age 18 to 34 have been its most consistent viewers. "Two-thirds of our audience are women," Mr. Leight said. "I honestly don't understand why, completely. I don't get it when parents say they watch the show with their kids, either."
Lisa Friel, a lawyer who spent nearly 30 years in charge of sex crime prosecutions in the New York City District Attorney's office, understands the impulse. Ms. Friel, who actually oversaw SVU-style prosecutions at work, used to watch the show with her high-school-age daughter, now 18 and a college freshman.
Some of the subject matter they may have encountered: an episode titled "Consent," in which a young girl is drugged with GHB; the aforementioned "Friending Emily," in which an older frat brother conspires with a newer pledge to kidnap and rape a high schooler and then broadcast the videos of her molestation on the Internet; and "Brotherhood," in which a pledge-master is murdered after raping several women as well as the fraternity's own pledges.
"It wasn't like I was watching it with her when she was 7," Ms. Friel told The Observer. "But when the time was right, when she was old enough and when I thought it was appropriate to start dealing with these issues, it was another way to open the dialogue."
The writers' lunchroom is plastered with New York Post and Daily News front covers, enough to extinguish one's creative juices … or appetite. Every Law & Order installment has a noted "ripped from the headlines" element, and at times the show has even presaged the news. During Mr. Leight's tenure, for instance, SVU had an episode ("Personal Fouls") about a basketball coach using his charity as a conduit for kids he could molest. The show aired "two weeks before the Jerry Sandusky story came out," Mr. Leight noted, with a hint of pride.
As Gothamist asked its readers at the time, "Not to pull a total conspiracy theory here, but this particular story scales pretty high on the 'just a coincidence' scale, don't you think?"
Mr. Leight explained that the story line wasn't based any on inside information, but that it wasn't a complete coincidence, either. SVU has a team of rape counselors, crime survivors, detectives and other law enforcement experts who advise the writers on plot points. "Male-on-male sex crimes was just something that people were telling us was happening," he said. "The show had never really tackled that issue in a substantial way."