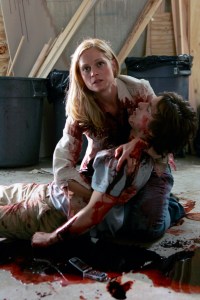 Is it possible that Dick Wolf has succeeded where so many well-meaning educators and lawmakers have failed—at getting young people engaged with important but taboo subject matter? Ms. Friel, who currently works at T&M Protection Resources LLC, a firm that offers sexual education and investigative services to universities and corporations, said she believes that SVU has helped blow up the myths of sexual assault—primarily, that it most often takes place in a dark alley at the hands of a stranger. In fact, studies show that 80 percent of sex crimes are perpetrated by a familiar face, and that jumps up to 90 percent if the victim is a child. "Rape is most often perpetrated by someone the victim knows," she said, "which is something SVU helped people understand."
But the show hasn't always been an easy sell. When Law & Order: Special Victims Unit premiered in 1999, starring Christopher Meloni and Mariska Hargitay as detectives Elliot Stabler and Olivia Benson, it was criticized for sensationalism. There was just no TV precedent for a series that tackled not just the rape or molestation of adults, but also, with disturbing frequency, of children as well. It wasn't unusual to have a scene in which a small boy or girl was found wandering around the city, dazed, with blood running down his or her legs.
The most brutal episodes violated yet another TV taboo: some of the kids were murdered as well. Longtime viewers of the show may have seen a 15-year-old found in the bushes, a dead baby discovered in a cooler and a 14-year-old war refugee with a slit throat.
Lisa F. Jackson is one of the show's critics. "SVU portrays a universe of sexual violence that doesn't really exist," said Ms. Jackson, director of the HBO documentary Sex Crimes Unit. To make the film, Ms. Jackson spent two years inside the Manhattan District Attorney's office with the prosecutors of sex crimes.
"SVU shows a universe that people prefer over the reality of rape and sexual violence," she said. "In real life, most victims don't show physical signs of assault, and it's a lot harder to identify victims because they don't come forward."
Especially during the final Christopher Meloni years, SVU seemed intent on pumping up ratings with increasingly outlandish crimes and plot twists. Stabler's own children were kidnapped, a hackneyed plot recycled from 24.
"I think people are remembering stuff from season 10, season 11," said Mr. Leight carefully, when asked about the more exploitative aspects of the show's story lines. "I think toward the end of the Meloni era, it got a little … fetishistic. It was like anything else: you had these great writers on the show for 10 years working with the talented [original showrunner] Neal Baer, and they keep pushing the limits, pushing the limits. When we came in two years ago, our whole idea was to bring the show back to the basics."
SVU has sailed past its 300th episode, is well into its 14th season, and has survived the loss of one of its two stars. It might be worth considering that there is something in it besides cheap thrills. It's hard to think of SVU as entertaining. Riveting, perhaps.
Mr. Leight would have us believe that SVU exists as a public service, and that the writers get no pleasure in creating these dark stories, especially if they involve children. Like SVU's relation to real-life sex crimes, his contention probably has some element of the truth, but isn't the whole story.
During our interview, Mr. Leight asked us what we thought of the recent accusations that Kevin Clash, the voice of Elmo, had once been sexually involved with an underage teen.
We said we thought it wouldn't be too long before an episode about a child-molesting puppeteer would make it onto SVU.
Mr. Leight coughed and was quiet for a moment. "Yeah … probably not for a while."
That night, Mr. Leight would write on @warrenleightTV Twitter account, "Memo to: FBI/CIA/NATO/SesameStreet From:SVU Writers' Room—Please slow it down, we're having a hard time getting this all down."