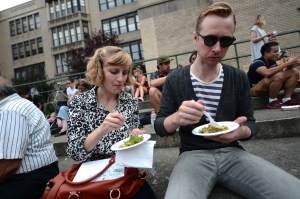 The food media, having little in the way of hard news to work with, traffics in trend stories, and these are never more appealing than during this season. Stories are bound to appear about this year's genius chef plying his magic tweezers, or hyperbolic odes to the year's "epic tasting menu."
One thing you can expect every 2012 wrap-up to include, from now through New Year's, is the annual tall tale about Brooklyn's coming of age as a restaurant capital. It's an irresistible story, bound to please Brooklynites and fool huckleberries in the hinterlands, and it has much-needed youthful sex appeal as well; food writers see Brooklyn as a gritty reboot of a story they long ago tired of telling about Manhattan. But here's the thing: Brooklyn, taken as a restaurant city, sucks.

My bad attitude toward Brooklyn may be wrongheaded, and in the aftermath of Sandy, which hit some restaurants hard, it may seem uncharitable. But it is, at least, well-intended and hard-earned. For seven years, I lived, and ate, in Kings County. As a food writer, I ate in every neighborhood and at nearly every new restaurant of note. In the early years, I never failed to praise, as we all dutifully did, the borough's perennial handful of legitimate restaurants—Al Di La, Saul, Noodle Pudding—and to pronounce them grossly underrated.
When a "New Brooklyn Cooking" began to emerge, in places like Zak Pelaccio's now-defunct Chickenbone Café or Marlow & Sons, I embraced and championed them. After a few years, though (and much greater exposure to the Manhattan restaurant world, thanks to my job writing for Grub Street) I began to realize that the old guard wasn't really that great, taken out of context, and that the new places, while wonderful, relied on prodigious exertions by their owners, of the kind that could only last so long.
Things haven't changed that much, but as more mom-and-pop restaurants have opened, and more affluent types found themselves priced out of Manhattan, a brand of civic boosterism has developed that defends even Brooklyn's very flaws with righteous rage. Robert Sietsema, keeping it real as ever, proclaimed two years ago that Brooklyn's haters were "simply too lazy to find a subway and board it, their tongues so accustomed to the familiar and prosaic that they don't want to taste anything else. Their wits so dimmed by self-esteem that they're unwilling to admit that the culinary world as they know it—a world of French cuisine, heavy silverware, pinkies in the air, and $500 tabs—hardly exists anymore as far as most of us are concerned." This ludicrous snobs-versus-slobs scenario seems to have been adopted uncritically by thousands.
Brooklyn's restaurant scene, and the affirmational chorus it has created for itself, is a veritable case study of conformity, on par with the Stanford prison experiment and Stanley Milgram's Obedience to Authority. Nor is this hype merely local. GQ declared Brooklyn "the coolest city in America" and claimed that in the food world, "it's where everything is happening." The borough, once universally understood as a backwater, set an all-time high for Zagat reviews, with 250 (up from 217). Adam Platt of New York, on the heels of some very good reviews, announced a "culinary power shift east" thanks to Brooklyn Fare and a small number of ambitious efforts (Blanca, Battersby, Gwynett Street, Colonie.)
Insofar as Brooklyn is gaining a toehold on culinary legitimacy, it's only by running headlong from its own, very real, very problematic, food culture. Tellingly, almost all of the restaurants that Mr. Platt and others claim as heralding this shift are, unmistakably, Manhattan restaurants, created by Manhattan chefs and restaurateurs. Battersby is the creation of two Alain Ducasse veterans—the very apotheosis of raised-pinkie dining. Colonie proceeds from Mas (Farmhouse), Gwynett Street from wd~50 and Mugaritz—even Brooklyn Fare, the borough's pride, is the creation of a chef whose mentor was David Bouley and who perfected his craft at Manhattan's generally overlooked Bar Blanc. If Bar Blanc had been on Smith Street, it would have been proclaimed a glory of gastronomy; in the West Village, it was just another place. The same dynamic operated, conversely, at Brooklyn Fare's predecessor as the crown jewel of Brooklyn restaurants, Park Slope's Al Di La, which had been on automatic pilot for years, and which would have been buried in obscurity and indifference had it been situated west of the river.
But Al Di La was for many years an undeniably high-level Italian restaurant doing very traditional cooking, albeit in a laid-back atmosphere. The quintessential modern Brooklyn restaurant, as we all know, has little in common with its Manhattan cousins. Instead, it's more likely to have a name like Testicle or Mutton Hut and specialize in off-cuts three days old, executed unevenly by dedicated but unsupervised young line cooks, and served with habitual insolence by ex-Suicide Girls in the flinching light of small-batch Edison bulbs. The prices generally are fair for what you are getting, but you're not getting that much. Sometimes the food is genuinely good, like the bacon doughnuts at Traif; at other times it's merely weird, like foie gras with maple syrup (served at the same restaurant).
After thinking about it for a long time, I've decided that there are three mutually reinforcing reasons for the Great Brooklyn Buy-In. One is psychological. I believe that Brooklynites grossly overestimate their restaurants as a defense mechanism against the anguish of exile. The great unspoken fact of Brooklyn life is that nobody, at least nobody I have ever met, moved there because they liked it better than Manhattan. ("It's not true!" I can hear them saying. "I have no interest in living in Manhattan …") In fact, though, they live there because it's the best place they can afford. Restaurants nearby become wildly attractive via a gastronomic form of beer goggles because their neighbors are so happy not to be eating falafel. Thus, The Farm on Adderly, a perfectly acceptable haute barnyard outpost, seemed like another Gramercy Tavern, just by being better than the only other decent American restaurant in Ditmas Park, Picket Fence. Mediocre lardcore joint Buttermilk Channel, a southern restaurant incapable of serving decent fried chicken or biscuits, gets hailed as masterful, mostly, I suspect, because you can take squealing infants there and nobody will complain. Franny's, whose utterly undistinguished pizza is notable only for the coercive sanctimony that comes with it, is actually hailed as being one of the city's best, when in fact it tastes in every way like 15 other pizzas you aren't forced to eat with a fork and knife.
Even more than the gratitude of the locals, it's the sheer paucity of decent kitchens that keeps Brooklyn restaurants afloat and admired. Very few of them have to contend with any real market pressure. If a restaurant in the 212 falters even for a few months, it goes down for the count. Just ask Vandaag, or Kibo, or The New French. That pressure alone keeps Manhattan's median quality level where it is. Put St. Anselm in Union Square, competing with Strip House and Gotham Bar and Grill and Kin Shop and Rosemary's and Japonica and Craftbar and Gramercy Tavern. Then see how long the wait to get in is.
This is not to say that a few genuinely fine restaurants are not to be found among the dross: Seersucker, the crown jewel of lardcore, and its spinoff cafe Smith Canteen; Mile End, the Jewish Torrisi; Pok Pok, more than deserving of the hype; and, my favorite, Vinegar Hill House, whose lo-fi vibe coexists with an eagle-eyed focus on perfect food.
Now, I realize that much of this is subjective, but then it's subjectivity that drives Brooklyn's inflated status, as the hype drives itself to exponential heights in an echo chamber of customers with identical tastes. And that, even more than localist myopia, is the real reason for Brooklyn's false claim on the world. The truth about Brooklyn food, and its secret sin, is that, far from being open-minded, experimental and freewheeling, it's actually far more hidebound and conservative than anyone has, to my knowledge, remarked.
Like McSweeney's Quarterly, which claimed to be a repository for rejected articles but quickly developed a house style so exquisitely toned that only eight people could write for it, Brooklyn food culture is bounded by the hardest of parameters: the comfort zone of callow youths and the insecure older writers who seek relevance to them. Contrary to the assertions of food mandarins across the river, most of the young Brooklynites I talk to aren't, in fact, fed up with white tablecloth dining of the Le Cirque variety. They simply have never experienced it. As a result, they don't really have a standard for what good restaurants are supposed to be like. The Mutton Hut is their working frame of reference; so the borough multiplies Mutton Huts one after another, each one mining the same vein of flavors in an endless feedback loop of bacon doughnuts and pro-am charcuterie.
Brooklyn tastemaking is an exercise in tautology. The Brooklyn foodies of the previous generation defined themselves around old-school ethnic dreadnoughts: Di Fara in Midwood, Tanoreen in Bay Ridge, Boston Jerk City on Utica Avenue in East Flatbush, World Tong Seafood in Bensonhurst, the M&I Market in Brighton Beach. The new foodies there are hipper, but they flock to places that are, for the most part, run by and for people exactly like themselves.
After all, they don't move to Brooklyn for their health; they move here to be near each other. That's why nearly all the buzzed-about places tend to be from the same cluster of gentrified neighborhoods: Carroll Gardens, Williamsburg, South Slope, Greenpoint. If Brooklyn-beat restaurants appear in other neighborhoods, it's because there are white college graduates living there to support them. None of the immigrant residents who populate Ditmas Park go to The Farm on Adderley; most of them don't eat at restaurants at all. They cook at home, shopping for kulfi, goat and gallon containers of milk at local Urdu-speaking bodegas.
Williamsburg, as one of Brooklyn's most closed communities, is a perfect example. Technically Jews, Latinos and whites over 40 do exist there, but they are effectively invisible in the neighborhood's restaurant culture. Yes, there's a distinct style that is all Williamsburg. But what about the food? Over the last year, I made a point of visiting a few of the new(ish) Williamsburg restaurants.
I had already eaten at most of the best known neighborhood places of recent years, a few of which were excellent (DuMont and Dressler) and many more of which were either generic (Diner, Juliette), wildly uneven (Egg, Fatty 'Cue), or niche operations (Pies' n' Thighs, Marlow & Sons.) So I visited three highly popular Williamsburg restaurants of recent vintage: the steakhouse St. Anselm, which supposedly sates the discerning carnivore; Allswell, a neighborhood spot I was told had one of the best hamburgers in New York; and Isa, an avant-garde undertaking wilder than anything I would find in Manhattan. (The Pines, a brand-new, much-hyped restaurant in Gowanus, had just opened, and was too new to pass judgment on.)
St. Anselm was a complete letdown, which rewarded an hourlong wait with an underseasoned, underseared hanger steak that tasted like it had been sitting around in a bachelor's refrigerator, which it probably had. Allswell's burger was well-made but had no more juice in it than a baked potato; and Isa, which boasted primitivist cooking from a wood oven, produced some of the worst and weirdest food I can remember being served, including a fried sardine skeleton and a steak with potatoes covered with bits of burned hay. The wood oven that was its whole reason for being was, in fact, powered by a gas oven fueled by a blue jet as furious as an F-16's afterburner.
How, I thought to myself, is it possible that so many good eaters, many of whom knew much more about food, and who had travelled so widely, would buy into this? The answer was not so much one of taste or psychology, but rather the kind of reflexive political instincts professionals in closed communities require to get ahead. A few veteran writers, such as the Post's Steve Cuozzo, have called Brooklyn on its flaws and been roundly mocked for their cluelessness. And no one jeers harder than the arbiters of fame in the tiny world of food media. With a few, mostly older, exceptions, the Brooklyn food media is as homogeneous, insular, and narrow as the audience it echoes and valorizes.
The typical establishment New York pro food writer is a person in his or her 30s or early 40s, middle-to-upper-middle class, with a life partner of some kind, a mortgage hanging over his or her head, and a child either on its way into or out of a stroller. They are professionally invested in talking up new things, because that is what their editors, who are indifferent to food except as fashion, require of them. (Look at New York's annual "Best of New York" list and count how many of its winners are more than a year old.) That's why they pile on to young, unproven chefs who seem of the moment, and why they are inclined to wildly overvalue novelty and personal charisma. Fine dining, of the old and uncool kind, is a black hole whose gravity they must at all costs escape, no matter how objectively good it is. They are trying, far too hard, to be with it. They are the backpack dads in Animal Collective shirts, the ex-debutantes in torn hose.
I don't claim that Brooklyn's food scene is without appeal. It is heartfelt; it is independent. Even the most-mocked aspects of it—the bearded bartenders, the twee chutney companies, the $12 chocolate bars—have a certain aesthetic and even ideological purity that no man can call false. There is no denying that Brooklyn's food culture it has its own proud, and in some ways admirable, character, even if you find it irritating, as I do.
But character comes at a cost; in this case, a toughened pelt that keeps out any hint of criticism, either by customers or critics. If I had wanted to stay in a closed system where everybody agrees about everything, I would don the black hat, move to Midwood, and subsist on kugel. But I don't. I live in New York because I want to experience many different kinds of things, all of them trying to get better all the time, if only because the alternative is extinction. Brooklyn, at least right now, doesn't answer that challenge; it's content to be "a great little food city" like Columbus or Portland, Maine. Call me a know-nothing, an elitist, an ignoramus, but I'm telling the truth as I see it. Brooklyn needs to step up.