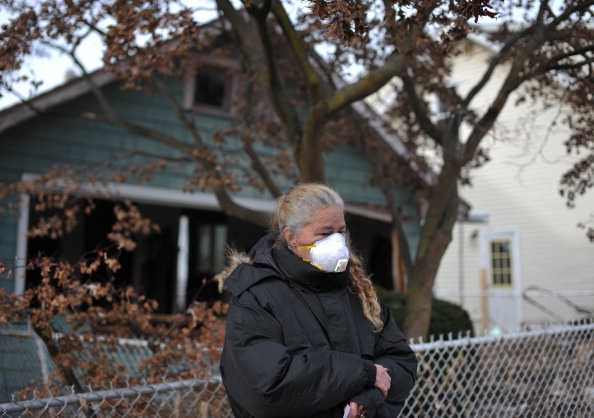 For a hurricane, Sandy has held many different titles: Frankenstorm, Superstorm, Wake-Up-Call. It's the last one that concerned the architects, designers and bureaucrats who gathered last night at the AIA's Center for Architecture for a fundraiser and debate about New York after Sandy. With some 520 miles of shoreline facing rising sea levels and increased storm severity, New York faces some serious questions of how to best protect our city in the future.
"This is an existential crisis for New York," said Michael Kimmelman, The Times' architecture critic who moderated the panel. "I should say we can look at solutions—seagates, soft and hard edges, new regulations and zoning codes, maybe porous streets with catchment basins, water proof vaults for power equipment on the streets. None of these solutions alone are the answer but many of them combined may well be."
It's what designers love to call, and they did last night many times, the holistic or slow design solution. A solution, which tries to remain adaptable and democratic while at the same time looking towards longer cycles of human behavior. Though within the design world, as those buzzwords begin to lose their meaning from overuse, that can mean almost anything.
Mr. Kimmelman was joined by an impressive list of experts: Cynthia Barton, Housing Recovery Plan Manager at the NYC Office of Emergency Management; Howard Slatkin, Director of Sustainability and Deputy Director of Strategic Planning for the city; Klaus Jacob, a geophysicist and current teacher of Disaster Risk Management at Columbia; and award winning architects Stephen Cassell, Donna Walcavage, and Robert M. Rogers.
To his introduction, Mr. Kimmelman, added one extra warning. "This is a challenge to our democracy, as well," he said. "I think part of this is going to be what parts of the city are necessary to change, salvage and develop and what parts we cannot."
This was, despite the many other elegant solutions proposed, maybe the most important point of the evening. That maybe there are parts of this city, in the face of more powerful storms and even with large storm barriers, for which the continual salvage and redevelopment becomes an almost Sisyphean scenario.
As Ms. Walcavage pointed out in an ideal world, "we would not have people live in high risk areas. We would allow the barrier islands of this city, to be barrier islands."
Klaus Jacob reiterated the idea with a series of slides that showed the likely increase and spread of New York flood zones and flood cycles. "When we reconstruct, we shouldn't reconstruct, we should pro-struct," Dr. Jacob said. He continued with a pointed skepticism towards the Dutch style seagate and levee system, "with sea level rise having currently no upper limit, you can build barriers but it's only up to a certain height and then you have difficulty growing them unless you widen the base for them. There are other problems, there are people who are outside the barriers who have actually a negative feedback from the barriers."
The thing with a sea barrier, as several of the speakers pointed out, is that they exist as a binary solution. Either they are built high enough and wide enough to successfully stop a storm surge (and the bigger you build, the more it costs), or else they fail. Unfortunately, as we've seen with New Orleans, to some extent, the southern city was lulled into a sense of false security by the barriers it had. Katrina was a catastrophic storm, but so was the preparations for its possible arrival—which now must be almost expected yet again.
The other holistic approach to the problem was presented most succinctly by Stephen Cassell, of the firm ARO, which worked on MOMA's Rising Currents exhbition a few years ago. He suggested that the city needed to reframe how it engaged with water. He further explored some of the solutions Mr. Kimmelman had highlighted earlier, including porous streets in the Financial District and an impressive looking green belt of tidal salt marsh to help absorb the brunt of an oncoming storms power.
"Can you start to think about at a different paradigm of how you look at an ecological infrastructure that works in parallel with the cities civic infrastructure," said Mr. Cassell. "How can these systems relate to each other and to the city and how can they evolve over time?"
But the bigger question remained of how any of this, regardless of the validity of each available solution on the table, was going to be implemented. When confronting the question there was an almost nostalgic moment for the days of Robert Moses from Mr. Kimmelman.
"It's wonderful to talk about the things we should do, whether barriers are going to work or not," he said. "But really why this time is something going to happen that's good? Who is going to have the authority and what kind of authority are we going to create? The design solutions may sometimes be obvious, but the lines of authority sometimes aren't."
It's a question that still has no adequate answer but one that the city will need grapple with soon.
As Dr. Klaus warned, "Goldman Sachs and the likes will walk to where the least risk for them is. And if the city doesn't manage that transformation in terms of land use and city use, it will walk off Manhattan, and off New York City."