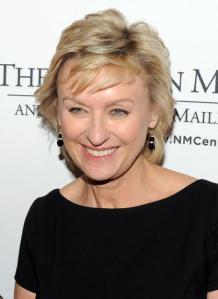 In this week's New York Magazine, Tina Brown looks back on her zeitgeisty career and the impending demise of the print edition of Newsweek. If it isn't the definitive account (we assume that will come later), it's the most up-to-date account.
But as we read the seven page Q&A with Slate founding editor Michael Kinsley, we were struck by Ms. Brown's frequent use of imagery. So very illustrative! So imaginative! We can practically see it all, from Cinderella waking up from the ball that was the Talk launch party to the refrigerators on each foot that was the print edition of Newsweek. 
We have collected some of our favorites below.
On austerity:
Maybe everyone will now see the light—I hope so. But maybe we'll all cartwheel over the same austerity cliff.
On becoming a citizen:
9/11 made me a New Yorker. I decided I cared so much about this country that I was kidding myself that I was ever going to go back to the U.K. It was time to get married.
On not being able to save Newsweek:
I think it was a romantic gamble that there was still life to be had for Newsweek.
On the death (or dearth) of glamour at Newsweek:

You know, it was very funny—when I looked at the document of sale, it was like the vestiges of the great galleon it had been. It was like that wreck of the Titanic in the James Cameron film—they're swimming through the rooms, and you see the chandeliers. Every so often, you would swim around a corner and see a chandelier—things like private dining.
On shedding the print weekly:
But it's like having a refrigerator on each foot—to have this carapace of the print magazine and all its problems, and all its legacy of unsolved issues.
On the changing media landscape:
Elephants can't tap dance.
On the (in) famously lavish launch party for Talk:
But, in a strange way, that party was the end of the twentieth century. It was the great end-of-twentieth-century party. I remember going back on the barge afterwards with Natasha Richardson, Kate Moss, and all these people, and this big cold wave came flooding over the boat. It was two o'clock in the morning, and we were all soaking. It was like Cinderella waking up from the ball.

And, of course, that view of Manhattan from the party—very shortly, the Twin Towers were down. New York had changed utterly. Utterly. I mean, we never would have had that party after 9/11. It just ended like that. It was really, really romantic.
On working with older men:
You go to war with the army you have. Please. Let's not talk about me having things for Si Newhouse and Harvey Weinstein. I enjoyed working for both of them, even Harvey.
On the preponderance of conferences:
There's a lot of them. But you know what it also tells me? That people are hungry to hear really interesting conversations. They really are.
The people are famished. And they will feast on intelligent conversation like so many banquet dinners.
Mostly though, we were struck, like Ms. Brown herself, by that cold wave of water hitting the boat as she came back from to New York Harbor from the Talk launch party. How apocryphal.
We can't wait for Ms. Brown's emblematic anecdote that perfectly encapsulates this time in which we live, when we have abandoned the romance of print in favor of the Internet. And in favor of endless conferences. Because that illustrative anecdote is sure to emerge someday. Just maybe not in the pages of a magazine.